Matt Glaeser NASL Player of the Month for June
The North American Soccer League announced on Thursday that Fort Lauderdale Strikers goalkeeper Matt Glaeser was named NASL Player of the Month for June.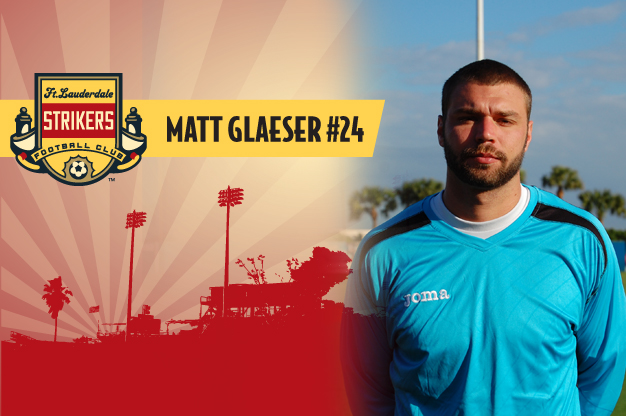 The Strikers were undefeated in the month of June with 2 wins and 3 draws.  During the Strikers' undefeated streak of five games, Glaeser recorded two shutouts. He currently has a 1.00 Goals Against Average, 3rd lowest in the league, and is tied in the NASL for 2nd in shutouts this season, at four.
The 26-year-old keeper played for Miami FC in 2010 and made 5 appearances. He was loaned to FC Tampa Bay last season but never played for the team.
Glaeser started the season as the backup keeper for Ft. Lauderdale but has held the spot since earning a draw against the Silverbacks in Atlanta on May 21. According to the NASL, the Strikers have only one loss this season, 2-6-1 (W-T-L), with Glaeser starting in goal.
"It's a great honor for Matt and a great honor for our team," said Strikers head coach Daryl Shore. "Matt had a terrific month of June and deserves the award."
Eighteen media members from NASL markets cast ballots for Player of the Month, with a first-place vote worth two points and a second-place vote worth one. Glaeser appeared on 10 ballots and received four first place votes, for a total of 14 points. Two-time reigning Player of the Month Etienne Barbara of the Carolina RailHawks finished second with 12 points. Barbara's RailHawks teammate Nick Zimmerman finished third with 11 points, while fellow Carolina players Brad Rusin and Jonny Steele finished 4th and 5th respectively. FC Edmonton's Shaun Saiko also received votes.