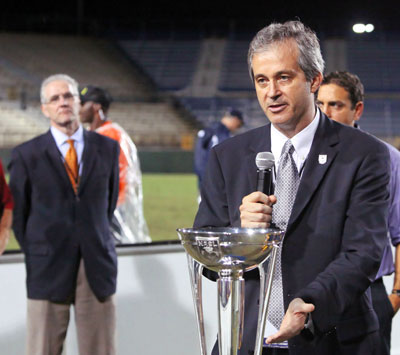 NASL Commissioner David Downs presents the championship Soccer Bowl Trophy last October in Ft. Lauderdale with USSF Secretary General Dan Flynn looking on. Photo by Jeremy Olson – www.digitalgopher.net
The NASL announced this afternoon through a story on their website that commissioner David Downs was stepping down from his position. Downs spoke to IMS from his office in Miami on Thursday afternoon and said he will be there "until the last kick of the season" and believes he will continue through November and possibly even longer, as he has committed to the NASL's Board of Governors a smooth transition.
The league's website said the Board of Governors has formed a search committee to identify a new Commissioner and has retained Odgers Berndtson, an internationally recognized executive recruiting firm, to lead the process.
The move came as a surprise as Downs, who has worked for both ABC Sports and Univision as well as leading the USA Bid Committee to bring the World Cup to the U.S. in 2018 or 2022, signed a 2-year contract renewal late last February.
"I'm so proud of what the NASL has accomplished in just its first two seasons and am confident that this league has a great future in the North American soccer landscape," said Downs in the NASL's statement. "Soccer continues to grow as a participant and spectator sport here, and the NASL is perfectly poised to deliver entertainment for our fans, while serving to boost the sport's reach across the continent and offer professional soccer players a chance to showcase their considerable skills."
Downs who lives in Hastings-on-Hudson in New York, became the league's first commissioner on April 4th of 2011. He said he signed the papers in mid-March and he and his wife Alexis hopped on a plane to Miami two weeks later with carry on luggage. "That's how we moved to Miami," said Downs who lives within walking distance of the NASL office.
"When I signed the 2-year extension I protected myself with an ability to resign effective the end of my second season but it had a provision that I would have to make that decision before the end of the season," Downs said. "I must say that while I fully expected to see out the two years when I signed that contract, I also thought pretty seriously that at the end of the two years that I would want to move back to New York where we have a large network of family and friends and where I still own a house where we have lived for nearly 30 years. As the notice period started to loom, moving back to New York was either 4 months or 16 months away. For fairly selfish reasons I decided I wanted to move back."
Downs said that while he has taken vacation days to do home projects or other such things, he hasn't taken an extended vacation since before his time with the USA Bid Committee which was June of 2008. "I want that," said Downs. "Part of me is torn because I categorically believe the league is in much better shape than before I started. I also recognize that there are plenty of things I would have loved to accomplish with the league and plenty of exciting things in store for the future that I will not be part of."
Downs also made it clear that he was not leaving the commissioners position to take another job.
"I have no clue what happens next in my life," Downs said.
However, when he was asked if he would have any interest if the NY Cosmos were to ask him to work for their organization he responded, "Well, that is in New York. I doubt I would jump into something that was that conventional but you never know."
Downs also mentioned the possibility of becoming an adjunct faculty member at a small college or even a high school JV soccer coach. The New York native holds his D license with the USSF and at one time coached both of his children who are now adults.
The commissioner, whose signature is on all the NASL match balls said, "I was a third string defender on a 1970s college team and I now have my name on a ball. I'm so grateful for having had the chance to be in this position with this league in a pretty historic role. I've had a great time doing this and I'll never regret that."