Former University of Wisconsin and NSC Stars soccer player Scott Lorenz has signed a 1-year contract with Sporting KC of Major League Soccer. The deal is said to be a 1-year deal with options and is an apprentice contract.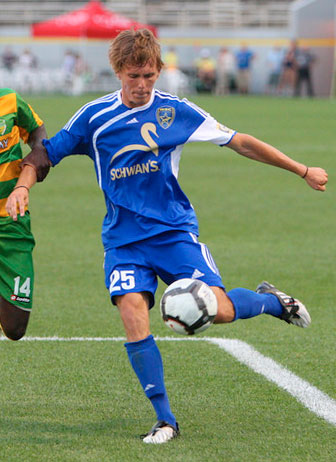 The 22-year-old Lorenz was the last player signed to the NSC Minnesota Stars last season. Head coach Manny Lagos had kept an eye on the former UW Madison player who told IMS last summer he played just about every position for the Badgers but goalkeeper. Something the Barrington, Ill. native said helped him to be a more diverse player.
Lorenz started slow for the Stars, getting some starts in US Open Cup games, making some mistakes but the converted defender seemed to pick up the pro game quickly. He had a great left foot, good speed as well as dribbling ability and was making dangerous runs and good crosses coming up from the left back position. By the end of the season Scotty had improved his defense and cemented his position with the team.
Lorenz received a trial with Sporting KC last fall with the help of Stars coach Manny Lagos and his agent Eddie Rock of Libero Sports. The 5-day trial took place over seven days and it was enough to persuade the team to invite him back for a preseason combine.
He again made it through the combine paving the way for him to join the team in preseason training in Arizona. He saw time in 5 preseason games which was enough for head coach Peter Vermes to offer Lorenz a contract.
IMS caught up with Lorenz between training sessions today.
IMS: Scott, you must be very excited?
Lorenz: It's been a good year for me in terms of growth and development. A lot of people in the past year have given me opportunities to play. The Stars with Manny Lagos at Minnesota. He allowed me to train and eventually get my way to the first team. Now with Peter Vermes at Kansas City giving me the chance to come into preseason and prove to him that I can play and that I can make a difference.
The preseason has been great. I've learned so much. Being a young guy on the team I'm just trying to be a sponge. I'm soaking everything up.
IMS: How has the transition been playing at this level?
Lorenz: The way we play at Kansas City is we like to get up and down the field a lot and I consider that one of my strengths. For me the transition here has been a bit easier than it might have been at some other MLS clubs. My agent Eddie Rock was good at finding this spot for me.
IMS: Tell me about the process of the trial last November all the way through to when you were offered the contract.
Lorenz: The trial went great and it kind of paved the way for me. The combine was really difficult to show yourself because there were 50-plus guys all trying to do the exact same thing. So the fact that they had seen me before was a blessing. They decided to take a chance on me and invite me along to Phoenix for preseason training. I just relished the opportunity and showed them that I can fit into the system that the manager and coaches want us to be playing this season.
IMS: You've got a great left foot. That has had to have helped you?
Lorenz: It helps. It's kept me in the game a little longer and given me opportunities that I might not have had if I was right footed. But playing with both feet was a strength from my youth development. My coaches always made it a priority to be able to use both your feet. They used to tell us that your opposite foot isn't just for standing. You have to be able to use it or you will become predictable. The last thing you want to become in any soccer league is predictable. At a top league like MLS people catch on pretty quick and you have to be able to change and flow with the game.
IMS: How much playing time have you gotten in the preseason?
Lorenz: I got 30 minutes in the first preseason game we had against Columbus. I received another 30 minutes against Colorado and Houston and got 60 minutes against the U-18 National Team. We had two games this weekend and I was able to get in a full 90 minutes in the second game against the Montreal Impact. So far I have one assist in the Houston game where I fed a cross to Chance Myers.
IMS: What happens now?
Lorenz: Now I take it one day at a time. I completed my preseason goal to sign a contract here. I took a day, celebrated it and now it's back to work. In fact now it's just the beginning. I've signed a contract so they're going to expect a lot more out of me and I'm prepared to take on that responsibility and see if I can't push the starting left back (Roger Espinoza) to make him better and if it happens, to take his spot.
IMS: You mentioned Espinoza. Has he helped your transition?
Lorenz: Espinoza is actually a great player. He plays for the Honduran National Team and he's really taken me under his wing and showed me the ropes the last month. I am very grateful for that.
IMS: Explain to us what are those little things, the nuances if you will, that are pointed out to you that you still need to learn.
Lorenz: It's mainly positioning and what to think about when particular things happen. As you see it more you become more comfortable with it. You get put in a certain scenario and being a rookie I'm going to make mistakes and Roger is a nice enough guy and respects the game enough that he will come and show me and tell me, along with the coaches, what I should be doing and what I should be thinking at that moment. When to make the run, when to tuck in – it's all about the timing aspect of it. Once you do it every day it becomes much more natural. But there is certainly a learning curve. My learning curve was I think a bit steeper and I'm thankful to the coaches, to Roger and to my teammates for being patient with me.
IMS: Watching you last year I observed a player who was a quick learner. You made some mistakes early in the year, but it was rare for you to make the same mistake again. Do you think your ability to learn quickly from mistakes and to retain that information is one of your strengths?
Lorenz: I do. I've always played soccer with an open mind. I know that learning is never over. I know I can always learn something more. When someone tells me something I listen. Whether I agree with it or not it doesn't matter. I listen. I'll hear it, I'll take it in and I definitely think it's one of the reason's I'm playing with Kansas City today.