BLAINE, Minn. (Nov. 2, 2011)—Minnesota Stars goalkeeper Joe Warren has earned North American Soccer League Player of the Month honors for October. The award is the first Player of the Month honor for a Stars player this season and also serves as the league's playoffs Most Valuable Player award.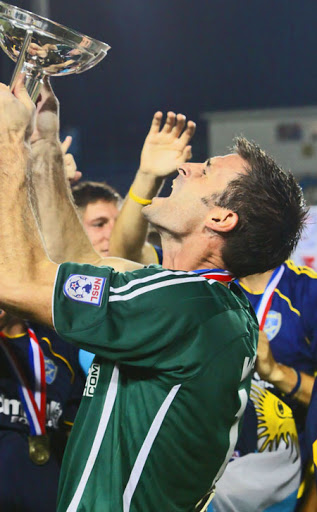 Warren earned three shutouts in five games as the sixth-seeded Stars went on a run through the playoffs to take the inaugural championship in the re-launched NASL. Warren also made 20 saves and stopped a pivotal penalty kick during the Stars' semifinal shootout triumph against the No. 1 seed Carolina RailHawks.
All told, the Stars finished with four of the top five vote-getters in the league's poll, which is distributed among media in each of the league's eight markets. Fort Lauderdale's Brian Shriver finished in second place, followed by three Stars: forward Luke Mulholland, defender Kyle Altman and midfielder Lucas Rodriguez.
During the regular season, Warren earned Defensive Player of the Week honors three times and was quick to credit his teammates for his success. The Player of the Month award brought no exceptions from the veteran goalkeeper.
"It's exciting to me personally, but I think it really speaks to the quality of our whole team that three other contributors in our success also received votes," Warren said. "I've been lucky all season to have 10 guys in front of me fighting for the ball and contesting shots, and that was especially true in the playoffs."
Warren came out of retirement during the offseason with the goal of winning a championship. He was a backup goalkeeper in 1999 when the Minnesota Thunder won the A-League title, but this year he was the Stars' starter from day one, starting 32 of 33 games for the Stars and compiling 2,910 minutes, 132 saves, 10 shutouts and a 1.08 goals against average.
"Joe told the team in early October that he wanted to still be playing on his birthday, which would have meant making the finals, and the guys responded to that by digging even deeper and having a great championship series," Stars head coach Manny Lagos said. "His leadership and experience in at this level were critical to us throughout the regular season as well as in our playoff run."