On Wednesday evening, the long-awaited first installment of the new NASL Florida derby kicked off, as the Fort Lauderdale Strikers hosted FC Tampa Bay. Both teams came away with a point in a 1-1 tie. In Montreal, interim Coach Nick De Santis, replacing Marc Dos Santos after his resignation earlier this week, guided the Impact to a scoreless draw with the 2010 D2 champion Puerto Rico Islanders.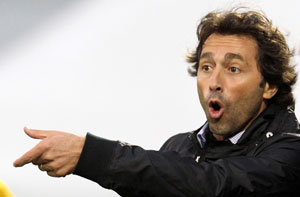 Fort Lauderdale Strikers 1-1 FC Tampa Bay
Strikers Likers and FC Tampa Bay supporters like Ralph's Mob have had to wait too long for the revival of this renewed NASL derby. A large group from Tampa travelled to Lockhart Stadium last month, only to see Mother Nature foil the game that had to be postponed. Wednesday night's matchup was the makeup game, but neither side could grab bragging rights after a 1-1 tie.
Almost 6,000 fans turned out on a soggy weeknight to see the first of four meetings between the two clubs in 2011. The first half of the match was scoreless, but not without action. Strikers' youngbloods Brian Shriver and Paulinho Le Petit were on the attack, but it fell to FC Tampa Bay defender Andres Arango to be the upstate Florida hero and south Florida villain as he twice denied Striker scoring chances by clearing the ball off the goal line. Arango's former NSC Minnesota teammate Warren Ukah earned the opportunity to put FC Tampa Bay in the lead as the half dwindled away, but Fort Lauderdale keeper Matt Glaeser knocked away Ukah's close-range header.
Le Petit continued on the attack after intermission, but barely missed early into the half. An Eduardo Coudet free kick near the hour mark hit the crossbar, but veteran Abe Thompson's rebound attempt was stuffed by the Tampa Bay defense.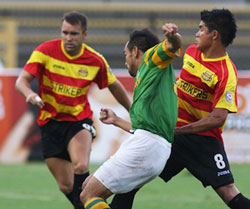 Finally, the scoreboard was breached in the 63rd minute. St. Louisan Mike Ambersley, the little guy with the huge heart, knocked in his sixth goal of 2011 as his chipped shot beat Glaeser after FCTB midfielder Tsuyoshi Yoshitake fed him the ball.
FC Tampa Bay looked to have the three points stashed away as the time waned, but never count out the wily Coudet. The Argentine pro curled a free kick past rookie goalkeeper Jeff Attinella to knot the score in stoppage time. Adding to the late game drama, the Strikers' David Santamaria had an exciting bicycle kick saved by Attinella. The game ended 1-1.
"That's what Fort Lauderdale and Tampa is about. It's great for the fans," said Strikers' coach Daryl Shore. "I don't think any of the games are going to be lopsided; they're going to be both teams going at each other. I feel like this game was wide open on both ends and it is great to have a rivalry like this."
Tampa Bay's head coach Ricky Hill couldn't be too unhappy with a point on the road either, especially in light of his team being outshot 24-7 and earning only a third of the nine corner kicks won by Fort Lauderdale. The Strikers now have a seven-game unbeaten streak, and lead their Florida rivals by three points in the standings.
This match seemed to have everything but a victor: good crowd, good goalkeeping and plenty of action. For those who savor this derby, the wait for the next edition isn't far off – the two teams face off again Monday July 4 at Tampa's Al Lang Stadium at 6:00 pm ET.
Montreal Impact 0-0 Puerto Rico Islanders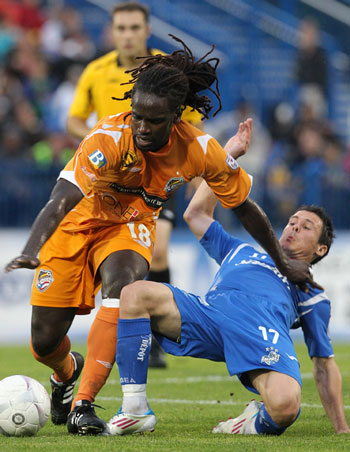 It didn't take long for Montreal Impact interim head coach Nick De Santis to get his feet wet again on the Montreal sidelines. Just recently named to the position, De Santis, Montreal's Sporting Director since June, 2008, led the Impact to a split of the points at home before over 10,000 fans.
Not that De Santis is a stranger to coaching in Montreal. He coached the club in 128 games before his move upstairs three years ago, and won 69 of his games in charge, drawing 30. De Santis also played more than 200 games for the Impact, who are in their last D2 season before heading to MLS in 2012.
Taking on the Islanders, who beat the Impact 2-1 earlier this season, isn't the easiest way to get back in the saddle. But backup goalkeeper Evan Bush did his best to help his new boss. He made big second half saves on Islanders' wonder-striker Jonathan Fana and English forward David Foley to gain his second consecutive clean sheet while regular Bill Gaudette is sidelined with injury.
Islanders' keeper Ray Burse also looked sharp for his team. He made seven saves in earning his shutout in a match that was statistically very even.
With Wednesday's road result, Colin Clarke's Islanders now have passed NSC Minnesota to take third place in the NASL standings.
Montreal had Ali Gerba back in the lineup after his Gold Cup duty with Canada and some injury woes, and Eduardo Sebrango got into the match late as a substitute in his 2011 debut.
NASL News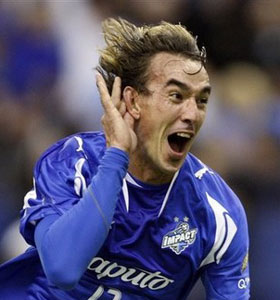 Eduardo Sebrango
The Impact announced before Wednesday's match that Eduardo Sebrango has rejoined the team as an active player. The striker, 38, is a Cuban native who retired in the offseason to accept a position with the Montreal front office. Sebrango began his career in 1999 with the Vancouver 86ers, and had accumulated 98 goals and 30 assists in over 250 career D2 games which also included stops at Rochester and Hershey before joining the Impact. Sebrango scored 5 goals last season and was very effective down the stretch last year, partnering well with Montreal striker Ali Gerba.
"I'm excited to be back with the team and to once again get on the pitch at Saputo Stadium," said Sebrango. "I feel I still have the energy to play and can help the team win. I felt great during our practice sessions throughout the last week. I will accept my role and give my best to contribute to the club's success. I also want to help our young forwards progress and help the group through this difficult sequence."
Meanwhile, international soccer icon Pele visited La Islandera, home of the Puerto Rico Islanders in an event hosted by Banco Santander. Over 1,000 youngsters were in attendance to see the man many consider the greatest player ever. Afterwards, the Islanders held soccer clinics for over 500 youths at Juan Ramon Loubriel Stadium.
"It was great to meet him. He was very nice to everyone and was willing to take pictures and sign autographs. It felt great when he said: 'I like to take pictures with Champions'", said defender Marco Vélez.