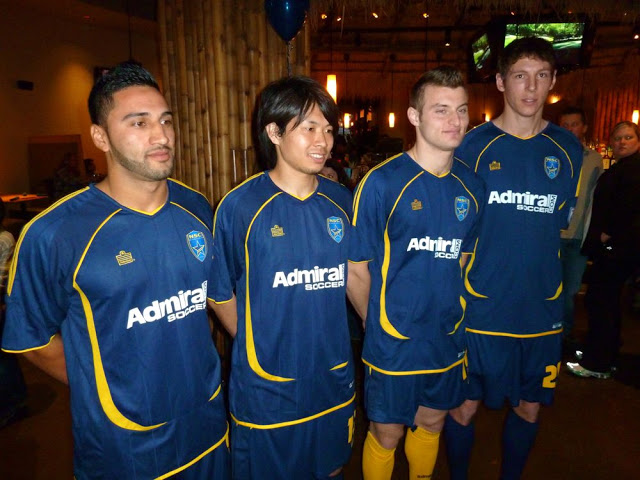 The NSC Minnesota Stars kit was revealed tonight at a party in the Cantina #1 restaurant at the Mall of America.
The jersey is a richer dark blue this year with gold trim and piping. Admiral, the creator of the kit, is also the sponsor as the company is working to gain more attention in the U.S.
Kevin Friedland, player/assistant coach, was responsible for many of the interesting details on the jersey. He worked with a graphic designer at Planet Soccer to create the unusual custom lower case lettering on the back. Friedland also customized the large numbers and chose the NSC Star with the two diagonal lines to reverse out of the numbers.
The dark blue jersey has plenty of small detailing that is evident up close. There are slightly darker vertical lines running through it with venting in the gold trim. But it's the custom "Nessy" Loch Ness monster on the back tail of the jersey that had the supporters cheering Thursday evening. Nessy is the unofficial mascot of the team created by the supporters.
The Loch Ness icon was created last year when the NSC Stars played their first season. Stars supporters had for some time called the N. S. C. "Nessy" for short as the letters said quickly sound [somewhat] like the name. There is also a large pond in the back of the NSC sports complex used to hold water that irrigates the NSC. It's said that Nessy lives there.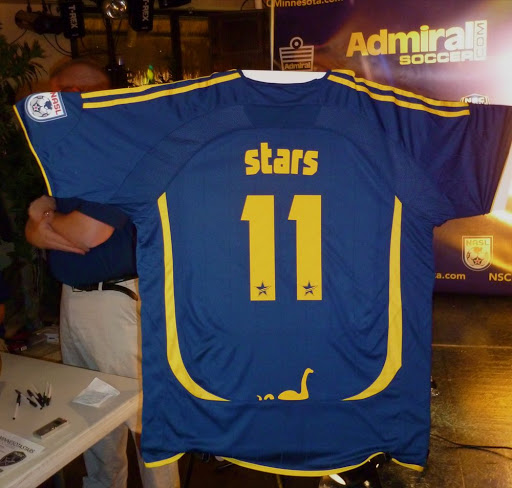 The Nessy graphic was created by Stars supporter Chris Anderson in 2010 who made it for a T-shirt with the word "Believe." The word "Believe" was used after the Thunder folded in 2009 and the NSC rose up to create a team to keep pro soccer in Minnesota. 'Believe' and Nessy ended up being a slogan and image used on banners, scarves and shirts. Some of the Stars players even had a Nessy razor cut into their hair.
The Stars players were all very impressed with the look, feel and quality of the kits and were excited to get on with the season and give the jerseys a real trial.
The Stars announced that replica jerseys with the Stars badge and Admiral Soccer.com sponsor logo can be purchased for $55.00 through the Stars website.
An authentic jersey with the Stars badge, Admiral Soccer.com sponsor logo, NASL badge on the arm and Nessy graphic on the back, can be purchased for $70.00. An additional $15.00 will get you a customized name and number.
Order forms can be downloaded here. Return to Angie by email, angie@nscminnesota.com or fax to 763-792-3993.