The NASL named their Players of the Week for week 2 of the season.
Jonathan Faña from the Puerto Rico Islanders was chosen as Offensive Player of the Week after a two-goal performance on Sunday against FC Tampa Bay. Faña gave Tampa defensive fits throughout the game. Faña got behind the Tampa defense after a long goal kick and scored in the 35th minute, putting the Islanders up 1-0.
In the second half, Faña got on the end of another Puerto Rico counter attack. Assisted by Gregory Richardson, Faña bulged the net for the second time in the game, assuring the Islanders the win.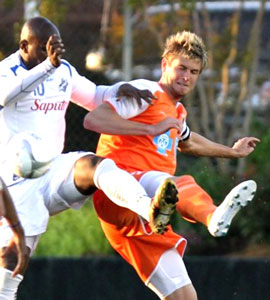 The NASL Defensive Player of the Week goes to Brad Rusin, captain of the Carolina RailHawks. Rusin helped his team to their season's first win and assisted his defensive line in the 2-1 victory over the Montreal Impact.
"I am honored by this selection," Rusin said. "I give all the credit to our coaching staff for preparing us and my teammates for getting the job done. It would be hard to receive this honor without them."
"Brad's among the most talented young defenders in the country," remarked RailHawks coach Martin Rennie as he praised his 24-year-old defender. "It was his first game of the season and we certainly noticed his presence. That's the standard of performance we expect of him, and we're always glad when he plays to that level."