A nine-save performance against FC Tampa Bay on Saturday night earned Minnesota Stars goalkeeper Joe Warren his third North American Soccer League Defensive Player of the Week award of the season.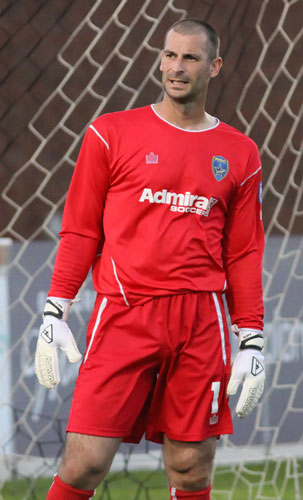 The Stars tied FC Tampa Bay 1-1 at Al Lang Stadium in St. Petersburg, Fla., picking up a vital point in their push to make the NASL's six-team playoffs.
"We had to weather a lot in the first half, and they were able to get it behind us a few times," Warren said. "Fortunately, I was able to be ready for it and make some key saves, and I think the team responded well in the second half and looked sharp. We're in a good place going into the final game playing well."
Warren's nine saves set a club record for the Stars, who are playing their second season and first in the NASL. He made seven of his saves in the first half, stopping a breakaway early and punching aside several other powerful shots as Tampa Bay put the Stars on their back foot. He added a sprawling save in the second half shortly after Tampa Bay scored to tie the game in the 59th minute.
"It's certainly nice to see a guy who expect to show leadership show leadership the way he did in a tough environment against a great team," Stars head coach Manny Lagos said.
Warren had earned Defensive Player of the Week honors twice before, and his award Monday is the fifth Player of the Week honor bestowed upon Stars players this season. The Montreal Impact's Ryan Pore earned the league's Offensive Player of the Week award after scoring twice against FC Edmonton as Montreal kept up its playoff push with a 2-0 win.
MONTREAL –
Montreal Impact forward Ryan Pore was named Offensive Player of the Week, following the 24th week of activity in the North American Soccer League (NASL). Pore scored twice (12th and 78th minute) in a 2-0 win over FC Edmonton, Saturday at Saputo Stadium.
"This honour is a reflection of the team's success right now," said Ryan Pore. "We have been getting some good results as of late and hopefully we will bring this confidence to Atlanta and get the win."
"Ryan has proved over time in this league that he can score important goals and that he can achieve great things in key moments. That's what he did Saturday," said Impact head coach and sporting director Nick De Santis. "He has adapted himself to certain situations with us and he imposes himself in the lineup."
Since his arrival in Montreal on July 22, the 27-year-old player, who was loaned by the Portland Timbers (MLS), has tallied four goals and one assist for nine points in 10 games, nine as starter (690 minutes).
The Impact is one point behind the Minnesota Stars for the sixth and final playoff spot. The team will finish its regular season this Saturday at 7pm, against the Silverbacks, in Atlanta, while the Stars will conclude their season the same night, against the Carolina RailHawks, in Cary.