In the first half of the 1960s, one team was on the minds of everyone with any interest in European football: Grande Inter.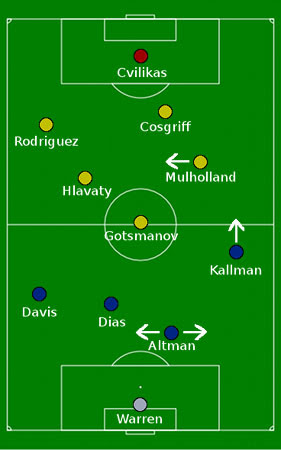 This Inter Milan side, led by the the eccentric Helenio Herrera– described by famous player Gianni Brera as "a clown and a genius, vulgar and ascetic, voracious and a good father, sultan and believer… boorish and competent, megalomaniac and health-freak… he is all of this and more"– made famous a style of football known as "Catenaccio".
Catenaccio under Herrera generally involved playing with a 5-3-2 formation, while also making heavy use of a sweeper; the system was designed to be "defense at all costs"– indeed, the word "Catenaccio" in Italian means "door-bolt".
With this system in place, Herrera not only won three Scudetti– the league championship in Italy– but, famously, two consecutive European Cups in 1964 and 1965.
While Catenaccio frequently involved exciting attacking play, it was more often associated with the dull 1-0 results Grande Inter would grind out over their league opposition.
The wheels fell off Catenaccio when Grande Inter lost to Ajax in the 1972 European Cup final. Ajax, under the guidance of Rinus Michels, made use of a system called "Total Football"– the trademark of which was that players were given great freedom to do what seemed natural and to switch positions as required, so long as each role on the team was being adequately filled by someone during each phase of the game.
More importantly, "Total Football" was linked in the minds of the mainstream public to fluid attacking play. When Johan Cruyff slotted the ball past Inter Milan's Ivano Bordon in the 78th minute to put the game away and hand Ajax the European Cup, it was largely, and somewhat unfairly perhaps, seen as a triumph of offense over Catenaccio's "wearisome" defensive approach.
Fast forward to the year 2011, during the first leg of the semi-finals in the American second division's post-season tournament. Belarusian central midfielder, Andrei Gotsmanov, playing for the club NSC Minnesota, improbably and unexpectedly popped up near the opposition goal at the very end of the match, took the ball down on his chest after a botched defensive clearance, and lobbed the ball cleverly over Carolina RailHawks goalkeeper Brad Knighton, winning the match for his side.
Throughout both legs of NSC Minnesota's heroic, underdog triumph over the vaunted Carolina RailHawks– a club with perhaps twice the player payroll, greater individual quality, and led by celebrated manager Martin Rennie– NSC Minnesota demonstrated the remarkably smooth tactical system they had been making use of for nearly the entirety of the team's two year existence.
Rennie's loss to NSC Minnesota was a tremendous and unforeseen setback. And he was undone by Total Football– but with a twist.
NSC Minnesota is managed by long-time former MLS player Manny Lagos. Lagos, who is generally recognized as a talented footballer whose career was almost completely undermined by a catastrophic knee injury suffered relatively early in his career, has managed his side, a team with perhaps the lowest payroll in the division, to stronger results than one would expect when examining their roster. The two-legged victory over Carolina was a major feather in Manny Lagos' cap.
A characteristic of Lagos' NSC Minnesota side is that his players are almost constantly changing position. The aforementioned game-winning goal from Andrei Gotsmanov serves as a perfect example of a player shifting from his normal role in the system to some other role, dynamically, as the situation sees fit. And as it was with Ajax against Inter Milan in 1972, such flexibility sowed the seeds of victory.
But like the tactically astute manager that he is, Lagos has implemented his own flavor of football at NSC Minnesota, integrating elements not just from Michels' Total Football, but from Hererra's Catenaccio system as well.
More specifically, the basic shape that Lagos frequently employs bears a striking resemblance to the evolved, zone defense-oriented form of Catenaccio, known as "Zona Mista".
In this Total Football/Zona Mista hybrid approach, one of the two fullbacks is asked to defend, and is paired with a wide player to facilitate forward movement on that side. The other fullback is asked to maraud forward as often as possible, making use of the space a midfielder opens up via central movements that draw opposition players with them. A central play maker is asked to serve as the pivot point for attacks, but also to track back and defend. One of the defenders serves as a sweeper, double teaming attackers along the back line as needed.
And, crucially, everyone is encouraged to perform any of the various roles as needed, provided there is coverage from a teammate. Carl Craig, the club's assistant manager, described Manny as the kind of manager that lets the players "make their own choices," and this attitude towards management seems to manifest itself systemically on the pitch.
Comparing NSC Minnesota's tactical awareness, or quality, to Michels' Ajax or Hererra's Inter Milan is absurd; either one of those teams would put many goals past NSC Minnesota in a competitive match. But for a club at NSC Minnesota's level, Manny Lagos' framework is advanced, and lethal– as Martin Rennie would likely attest. This fact is a testament to Lagos' abilities as a tactician, and to his players for being able to execute the system.
The true effectiveness of NSC Minnesota's tactical system will be put to the ultimate test against Fort Lauderdale starting on Saturday– in the first leg of the final.