Indianapolis could be the next NASL team and Milwaukee the next USL PRO team, but neither would be ready to join their leagues until 2014.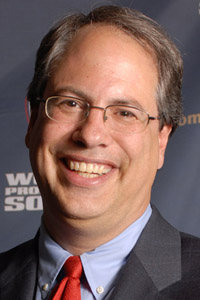 Peter Wilt is working with a number of groups that want to bring pro soccer to their cities.
Peter Wilt was in the Twin Cities over the weekend and took in the NASL semifinal match between the Minnesota Stars and San Antonio Scorpions. Wilt shared that he has been working independently with several organizations who would like to bring professional soccer to their towns. Two of those organizations he was able to talk about publicly and one of them shed some light on what might be the next NASL franchise.
Wilt, who was interviewed for the NASL commissioner's position when the league was starting in 2011, said he was interested in the position then, but not so much now.
"I really enjoy startups," said Wilt. "The launch of the NASL was a very exciting time and it intrigued me and I very much wanted it and was disappointed when I didn't get it. At the same time David Downs was a great candidate and has been a great commissioner. It's disappointing he is moving on but he's taken the league to a great spot. He has really helped define the NASL. Two years ago there was so much uncertainty as to what NASL was, what USL PRO was and where the leagues were going. I think in both cases the leagues are now much better defined and have a role and a purpose on the North American soccer landscape and I think the commissioner should take a great deal of credit for that in the case of the NASL."
"Now I'm more interested in starting up a team or two," continued Wilt. "I'm excited for the opportunity to be involved in the launch of Indianapolis."
Wilt states that Indianapolis, Indiana has a group of businessman who are self funded and could easily meet the USSF qualifications for Division 2 soccer. He said in an interview on Monday, because the organization has MLS aspirations, he sees the NASL as the best vehicle to make that happen, pointing out other division 2 teams that have easily made the successful jump to MLS.
The Indianapolis group may very well be the Midwest location that Commissioner David Downs has mentioned several times recently and Wilt says they are close to making a decision and may be considered at the late October NASL Board of Governors meeting. However, Wilt does not think that the team would be ready to play before 2014.
That group of local Indianapolis businessmen have retained Wilt for a few months to do research and feasibility analysis. "The group is specifically interested in NASL and I tend to agree with them. That seems to be the best fit for the market."
The former General Manager of the Minnesota Thunder and Chicago Fire as well as CEO of the Chicago Red Stars and founder of the Chicago Riot, says he is going public with the information now because he is in the process of going external and talking to various stakeholders in Indianapolis such as business owners and those involved in the soccer community, including the Brickyard Battalion, a supporters group formed to bring pro soccer to the city. Wilt stated that he believes it's vital to get the input of the local community to make the team work and it needs to be built from the bottom up rather than the top down.
"The NASL has an important business meeting at the end of this month and Indianapolis will certainly be a topic that will be discussed," said Wilt. "We want to have much more information at that point so we can be prepared to discuss it at those meetings. I can't say if a decision will be made about Indianapolis at those meetings but the trajectory for the discussions we've had would make sense for a 2014 start."
Wilt says there are several venues that can work in the short term for a division 2 team in Indianapolis, but in the long term "a more perfect solution is needed." He says each of the current options has positives but also has shortfalls in areas like amenities, location or size. "Our research has shown there's just not a permanent solution in place there."
"A couple of more months will tell a lot but preliminarily, I'm very encouraged by the Indianapolis market," says Wilt, explaining that the city is very sports minded and has been for a long time. He pointed to their dedication to amateur sports including the Pan Am games in the early 70s to Indianapolis' commitment to venues for their professional sports teams. He also talked of the NSCAA Convention which is held there often, and a strong youth soccer community.
Noted also by Wilt was the young demographics of Indianapolis and how he feels the downtown area is vibrant and sees some similarities between Portland and Kansas City. "It's almost a hybrid of those two, both which have shown they can be successful soccer markets," said Wilt.
Wilt says he is also working with a local attorney from his home town of Milwaukee. The two have partnered to find investors for a team in the Milwaukee area. But in that case Wilt feels that USL PRO is a better fit.
"There's some interesting things going on with a venue in the heart of the city that would be fantastic in integrating the social experience with the sporting experience, much like Seattle and Portland have done with their venues right downtown," Wilt said. He points out that with the size of the venue, which currently has no seating capacity, the investor group would have to fund expansion of the venue but the final size would make it a good fit for USL PRO. He believes they could bring the seating up to 3 or 4 thousand.
He states they are in the early stages and are just putting together the investment information and have yet to pitch the idea but believes that will start happening by the end of October. Wilt states that if he finds an investment group for his Milwaukee USL PRO team, they too would not be ready to play until 2014.