On Wednesday, FC Tampa Bay held a press conference making several major announcements for the team that had been working hard behind the scenes for a year and half to bring professional soccer back to Tampa Bay.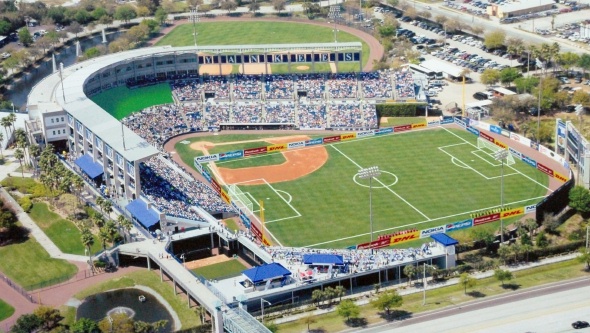 The team announced that they would be playing their games at George M. Steinbrenner Field, the 31-acre facility that is home to the New York Yankees spring training and the Tampa Yankees. The stadium soccer set-up and seat manifest will contain approximately 10,000 seats, including the Tampa Tribune Deck and luxury suites.
They also announced they will start their full team training camp and preseason on March 1, 2010. The team will play five to six preseason games throughout the Tampa Bay area.
The team also released the names of 13 players on the inaugural team roster, including three international players. Teams are allowed by US Soccer to have seven foreign players on the active roster. The international players are Jason Beardsley, Jeremy Christie and Adam Nowland. The domestic players also signed include Kwame "JJ" Adjeman-Pamboe, Dwight Barnett, Scott Buete, Yendry Diaz, Joe Donoho, Mozesh "Mozzi" Gyorio, Aaron King, Pascal Milien, John Raus and Graham Tatters.
Perhaps one of the biggest pieces of news that may have flown under the radar is the team will start the process of a full time soccer academy that will in the future house and school the players that attend. The program will be headquartered at Saddlebrook Resort. TBR Academy Residency Program will start with 20 to 25 international and domestic players. Players will be housed and schooled at Saddlebrook, as well as trained by the FC Tampa Bay Academy coaching staff led by Technical Director Perry Van Der Beck.
IMS caught up with Andrew Nestor, owner/founder of the team as well as President and CEO. Nestor took a few moments by phone from Tampa Bay, Florida to share some of the events of the day and to clarify the change in name from Tampa Bay Rowdies to FC Tampa Bay.
bq: Thanks for taking the time out of your busy schedule today. I know today was a big day for you. You had a press conference where you made some big announcements for the team. You want to tell us about that?
Andrew Nestor, owner and president of FC Tampa Bay
AN: It's been a little over a year and a half really where we've announced that we're bringing pro soccer back to Tampa Bay. It's been a bit of a bumpy road, but really because we were trying to ensure that this team, and our league, has long term viability. And I think with the accomplishments we've made over the past few months, it's put us in a position to move forward and be successful. Today was just a really exciting day to be able to announce that we're going to play in such a great stadium and also be able to announce a list of players that we've signed that we truly believe give us a base for a winning team in our first season.
bq: Tell me about that "bumpy road" you mentioned.
AN: Well, I think the major hurdle was the whole league situation. We always believed that the league needed to be restructured so it could properly grow. I think it sort of went well beyond that. [laughs] That's an understatement. Ultimately, we're happy to be members of NASL. We think the agreement that was made this past month with US Soccer, USL, and NASL was the right decision for the sport and I think that all the members of NASL are truly committed to growing soccer in North America the right way. And I'm really happy that we formed this group and am looking forward to continuing to develop it.
bq: Tell me about that camaraderie, that bonding that's happened, because I've heard this from a number of other owners of teams in the new NASL league that in this, I don't even know what to call it, this kind of "battle" for control of second division soccer in the US, there's been a sort of bonding that's happened between all those owners.
AN: Well first of all, I'll just comment on I never saw it as a battle for control. I just saw it as trying to structure a league properly so that it can grow and so that it can be viable long-term. Getting back to your main question is, yeah, there's been, I don't know, I guess you go through something like this and you work day in and day out with other team owners and you really get to know one another. And I think that's really important. Because there really has been a great bond created between all the team owners where we all see kind of a unified goal in what we're trying to accomplish in the sport and in our markets. And that can only lead to good things. When you're able to put aside your specific market needs and problems that we all uniquely have and be able to look at the big picture and figure things out together, I think it's really important.
bq: Let me ask you about specifically the lawsuit that is out there right now. Is there any resolution in sight and what happened in the first place that caused all the problems with the name Tampa Bay Rowdies and how you've tried to use that name for your team, yet it seems someone else is claiming they own that name. What's the status on that because your new website opened up today and it looks fantastic, but there's no Tampa Bay Rowdies name anymore. Can you talk to me about that?
AN: Sure, it's still an ongoing situation, so I can't really tell you too much about it at this point because it's evolving every day and I wouldn't want to misspeak. But we, our ownership group, acquired the rights to operate a soccer team as the Tampa Bay Rowdies. We did that over a year and a half ago, that has not been challenged. There's a lawsuit regarding rights to sell merchandise with the wordmark Tampa Bay Rowdies and the vintage logo. The new shield that we've used, obviously designed by us, those are new and we have those protected as well. So we're just going through this process now trying to straighten out the situation regarding merchandise and that's just an ongoing situation right now. I honestly don't know, I couldn't tell you a date or a target date for resolution on that.

bq: Okay, but your hope is, of course, to get that Tampa Bay Rowdies name yet, it's just that you have not been able to secure that legally yet?
AN: Well, we have the right to operate a team as the Tampa Bay Rowdies. The question is over merchandise.
bq: So it's clearly merchandise even though I've noticed you've changed your domain name on your website.
AN: Yeah, there are a couple reasons for that, I think it all kind of helps our position. We felt that when we first did our brand design, we were working with our brand designer, trying to figure out really how we wanted to approach the market: should the focus be on Tampa Bay? should the focus be on football club and a more traditional name? do we want go down that route? When we released the initial shield, there was also some backlash concerning the lack of stylization within the shield,
[like]
coloring, some people thought it wasn't dynamic enough. So there's actually more of a brand name aspect to the change with, obviously, fctampabay.com and the focus on the "FC," which you'll see in the new shield is stylized much differently than what we've done before. There's also a lot of the new green in the shield and a little more dynamic order to it. We wanted to, we made a lot of changes from a branding standpoint based on the feedback we've gotten in the past year.
bq: Tell me about the stadium you're going to be playing in.
AN: It's a gorgeous stadium. George M Steinbrenner Field. It seats 11,000 fans. It has twelve luxury suites. It's very nice, well-kept Bermuda grass. The soccer field fits well in the dimensions of the field. The stadium was designed after Yankee Stadium in New York. It's just a great facility. It's an amazing opportunity to work with the New York Yankees and have an organization like that behind us. It's really something unique and something that I think will really help our franchise. It's a great location as well. It's directly across the street from Raymond James Stadium. The two venues actually share parking, right by Tampa Airport. And a good central location for all of our fans from all over Tampa Bay can get to easily.
bq: There's a general feeling amongst soccer supporters that the Tampa franchise can do better than the Miami franchise. Miami seems to have had the problems of drawing people. Tampa has done better in the past. Do you think that's going to transfer to this second division team and why?
AN: I think so, I can't really speak too much of Miami and that market because I personally don't know it very well, I'm actually originally from Boston. I've come to know Tampa very well over the last few years, doing diligence on the market and deciding if this was the right place for a team. Tampa is unique, I think, from the rest of Florida, in that it's not really, it's main industry is not tourism, although we do have great beaches and great tourist attractions and a lot of visitors from all over the world every year, it's still less of a transient population. You have families here that have been in this city for multiple generations, and that's even true for the Hispanic population, the strong roots here dating back to the Cuban cigar factories that used to be here in Ybor City. You have a big Colombian population, Peruvian population. And it's not just that there's a good Hispanic market, it's just that it has roots, it has real roots, in Tampa. And I think that extends to all the different ethnicities that coexist here in Tampa Bay that it's not transient here, they've been here for a while. People really support their city, and love their city, and it's a good sports town.
bq: Andrew, you said you're from Boston, how did you end up in Tampa Bay?
AN: I came to Tampa Bay to launch this team.
bq: Why?
AN: I guess, just to give you some background on myself, I grew up in Boston, graduated from Boston University School of Management. While I was at the U, I met my now business partner Hinds Howard. We both went into finance; he was at Lehman Brothers, I was with GE. We ended up, after a few years, leaving our jobs there to team up and start an advisory merchant bank called Citrus Ventures. We started doing some advisory work in sports and media deals. And soccer has always been a passion of mine; I grew up playing three sports so I've always loved sports, so I started looking at different startup companies and mid-sized companies and then in the sporting industry and decided that it would be a good move to get into actual team ownership. So I knew a lot about the soccer landscape just from growing up a fan and playing the sport. We started doing diligence on a few different markets. Looked at Boston as one, actually, decided that where, at the time, USL1 was at, a team in Boston wouldn't make sense because of the Revolution and their efforts to get a stadium in Boston.
We looked at San Antonio. Hinds is actually from Houston, and so is one of our partners with the team, he's based in Houston, so we looked at the Texas market and we also looked at Florida, because there was an obvious void in Florida with Miami and Tampa Bay dropping out of MLS. I came down to Tampa Bay and met our now local partner David Laxer and a few other people that were really influential in me making this decision, like Perry Van Der Beck and Farrukh Quraishi.
bq: Tell me about Van Der Beck and Quraishi.
AN: Perry Van Der Beck is our Technical Director and he's a former Rowdy. He was also, at one point, head coach of Tampa Bay Mutiny. And Farrukh Quraishi also played for the Rowdies and, at one point, was GM of the Mutiny. Both great guys. I got to know them, got to know the market, and started to see the sheer numbers of people, not just registered youth soccer players, but the adult leagues here, the overall sports market. It's a bit of a college town with UT [University of Tampa] and USF [University of South Florida]. And as you've seen what's happened in Seattle, that young adult demographic, I think, is really important for a team to be successful. And I started to look at all these different aspects of Tampa Bay and then on top of that you have the history of the Rowdies and the Mutiny – even though they're not here anymore, their actual attendance numbers were pretty good. And you start to look at all those factors and Tampa Bay became a no-brainer. And it's also a place I didn't mind moving to. It's pretty nice here.