Minnesota's Ben Sippola has been chosen as the 2010 Horizon League Player of the Year. Sippola is from Northfield, Minnesota and played for Shattuck – St. Mary's before attending Butler University.
According to Sippola, the senior midfielder is playing a more attacking role this year for his school which has allowed him to lead the Bulldogs (15-0-2) in scoring with 7 goals. Sippola was also chosen as the Offensive Player of the Year and voted in as first team All-League which are both decided by league coaches.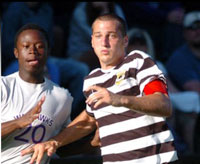 Greg Rosenthal
Sippola currently leads the league in assists (9), while ranking second in total points (23). He's ranked ninth in the NCAA Division I in assists with 11.
St. Paul, Minnesota's Greg Rosenthal was also chosen to the All-Horizon League First Team. The senior defender/midfielder who is captain for his UW Milwaukee team has started every game this season and has 2 goals and 2 assists for the Panthers.