John Tudor has been living in the Twin Cities for the better part of 20 years now. If you met Tudor on the street, you'd notice the English accent but you'd never have any idea the man was a soccer star for Newcastle United in the 70s, scoring 53 goals for the storied club.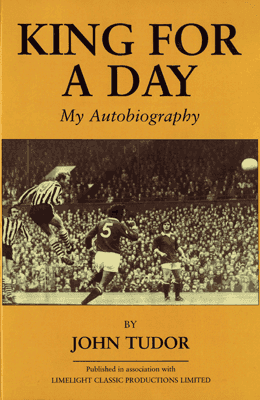 King For A Day is Tudor's autobiography in which he penned many charming and informative stories of his years playing in England, a time that Tudor recently told me was very different than football in England today.
Tudor will be at Brit's Pub on Saturday, March 26th at noon (12:00 p.m. CT) to sign copies of his new autobiography, King For A Day.
The book signing will directly follow the screening of the Wales v England Euro Qualifier that starts at 10.00 a.m. CT.
Playing at Newcastle didn't just happen overnight for Tudor. By the time the young Ilkeston Town native actually made it to Newcastle United, he had worked his way though the ranks playing for Ilkeston Town, Coventry City from 1966-1969 (69 games, 13 goals), Sheffield United from 1968-1970 (71 games, 30 goals), and finally Newcastle United from 1970-1976 (164 games, 53 goals).
Tudor continued to play football into the late 70s with Stoke City and K.A.A. Gent in Belgium but a serious knee injury slowed his career. Clearly, Tudor's best years were at Newcastle where he formed a formidable striking partnership with Malcolm MacDonald.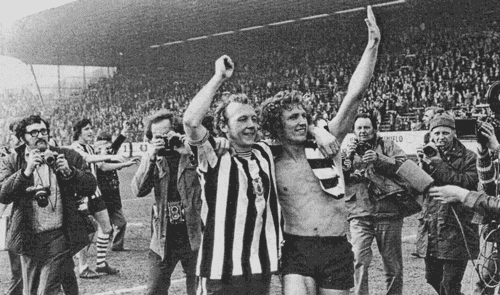 Tudor (left) and Pat Howard (right) thank Geordie fans after a 1974 semifinal win against Burnley that sent them to Wembley for the FA Cup Final
In 1974, Tudor played for Newcastle at Wembley in the FA Cup final against a Liverpool side that included Kevin Keegan. This was a game they lost, as Tudor explains in the book, because of lack of consistency that season and a naivety on the clubs part in preparing the team properly without distractions.
Tudor makes numerous observations in the book about the clubs in the 60s and 70s. Tudor explains that one club stood out amongst many and that team was surprisingly Coventry City.
Tudor states that they were "innovative" and ahead of their time. He explains in one chapter how the team drew more than 11,000 supporters to watch an away game against Charlton Athletic by placing a series of TV sets on the home grounds so supporters could view the game.
They also organized trains for home fans to travel to away matches and set up a lottery pool. He states that some scoffed at the ideas and called them gimmicks. Tudor writes, "But thirty years on, these gimmicks are now used all over the world to generate income without a second thought. Indeed they are an essential, and expected, part of the modern game which must embrace every possible income stream."
Tudor's book is filled with personal stories of a different time that helps one understand the journey football has taken to get where the English game is today.
In recent years Tudor was Coaching Director at Tonka United in Minnesota. In 2009, he took the position of head girls coach at Holy Family Catholic High School where he works with his son Johnathon. He also serves as Director of Senior Player Development of CC United Soccer Association.
To purchase signed copies of the book for $20.00 please email John Tudor at JohnTudor1@comcast.net or call John at 612-889-0586 for more details.