Twin Cities Futsal will be opening its doors for the first time this Saturday for an open house.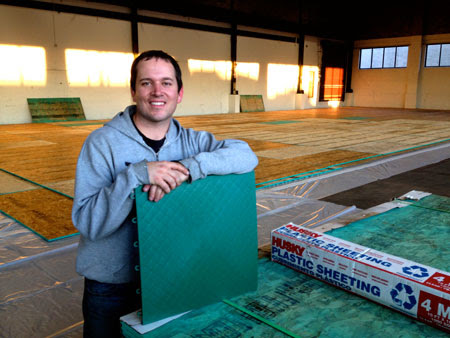 Marshall Morehead holds a piece of his new futsal flooring that was installed last week at Twin Cities Futsal in N. E. Minneapolis.
We see it more and more these days. A soccer talent moves beyond his peak playing years but stays involved with the game in some fashion or another. It's happening at the national level with coaches, color commentators and soccer business owners. It's also happening at the local level and Marshall Morehead is living proof.
Minnesotans may remember Morehead as the high school player from Stillwater in the mid '90s who could score his share of goals but could also set his teammates up with great vision and good passing. He was the state's first Mr. Soccer playing for Stillwater High School were he was an All-American. In fact Morehead continued to hold the state record for most points in a season (62), which he set in 1996, until it was broken last year.
Morehead played collegiately at University of Wisconsin-Madison for one year, and then spent three years at Marquette. After graduation, he played professionally for the Minnesota Thunder for three years.
These days Morehead works in the financial services industry but he has stayed involved with soccer. He lived in Portland, Oregon for a period of time and it was there he was introduced to futsal, which he had never played as a youth.
Futsal, which is played throughout the world and is primarily an indoor game, is played on a court-like surface about the size of a basketball court. The ball is slightly smaller and heavier, keeping it on the ground and making it more of a technical game. This lends itself to great winter training for youth players. Morehead says he grew up playing soccer in the winter at the old Corner Kick facility in Maplewood as well as Bielenberg in Woodbury when if first opened. But because Minnesota never had a specific futsal facility, he had never experienced the game.
"Playing for the Thunder was more or less a justification for all the hard work I had put in through the years to say, I got paid to play the game that I love," said Morehead. "But at the end of my Thunder career I had burnt myself down to the last part of my wick. I didn't want to play outside and I didn't want to get hurt. I also didn't want to deal with people who take the game way too seriously. When you play futsal it's so much more technical. So for someone who is maybe athletic but doesn't have the skill, futsal is not that enjoyable."
Futsal is played with five players, one of whom is a goalkeeper. Unlimited substitutions area allowed. "I love the fast pace and the constant sub on the fly," said Morehead. "In 45 minutes you get a great work out."
It was playing futsal in Portland that the former Minnesota Thunder player fell in love with playing soccer again. It was also in Portland when Morehead came up with his idea: Minnesota's first futsal-specific facility. Morehead eventually made it back to Minnesota and this weekend he will realize his dream by opening Twin Cities Futsal at 900 Sixth Avenue SE, Suite 190, in North East Minneapolis.
Morehead says from the beginning he always wanted to find a place in Minneapolis for his facility and he's very pleased with his new space. The facility is in an industrial area of North East Minneapolis, but the building where Twin Cities Futsal is located has been renovated and houses offices for many organizations including MinnPost.com. The building is located just off of 35-W.
Twin Cities Futsal has a new parking lot with a beautiful wood facade and huge windows with a southern exposure that floods the courts with sunlight during the daylight hours. The space that hosts Twin Cities Futsal is an old steel warehouse. Walking through the building feels cavernous and yet, somehow, has a very warm feel to it. Gracing the high ceiling are two faded yellow and monstrous 10-ton electric hoists that still are operational if need be. Morehead has installed a new entry way, bathrooms and new heating and cooling system. The facility has a modern urban loft type of feel.
"It's a unique and very cool space that will hopefully really sell itself once people come out and see it," says Morehead.
In the facility Morehead has installed Snap Sport futsal flooring which is the official flooring for U.S. Futsal. "It's a plastic composite material that snaps together," said Morehead. "It won't be sitting directly on concrete. We've got two layers of foam and two layers of plywood to make it level and to give it a little bit more give. Then the flooring sits on top of that so it gives it a little bit of cushion."
An official futsal field is anywhere from 16 to 27 yards wide by 27 to 46 yards long. Morehead will have 2 fields that are back to back. The fields will take up 10,000 square feet but the building itself is 15,000 square feet so there's plenty of room for spectators. Twin Cities Futsal fields will be 17 x 27 yards in size.
The games at Twin Cities Futsal will be 45 minutes or two 22.5 minute halves with a running clock and a couple of minutes break at halftime.
Morehead says he has a relationship with Minneapolis United so they will be using the facility one night a week to train. The rest of the time, including weekends, Morehead's plans are to set up leagues that will included youth and adults teams.
This Saturday, December 10, Twin Cities Futsal will be having an open house from 10:00 am to 4:00 pm. with food, beverages and a limited number of shirts to give away. Twin Cities Futsal will have youth soccer participants playing futsal on the courts which Morehead hopes will give the public an idea of the game as well as the facility.
A few of the NASL Champion Minnesota Stars Players will also be attending. They will be signing autographs and will be bringing with them the NASL Championship Soccer Bowl trophy from 12:00 – 2:00 pm.
You can find Twin Cities Futsal's website here or you can call 612.840.6298 for more information.