On Monday, Augsburg College men's head soccer coach Greg Holker, his team and a few others set off for Spain as part of their spring training session. During the 10-day trip, the Auggie men will visit Barcelona, Girona, Figueres, Madrid and Toledo, while also taking a day trip to Perpignan, France. The Auggies will play five games against local club opponents before returning to Minnesota on Thursday, May 13.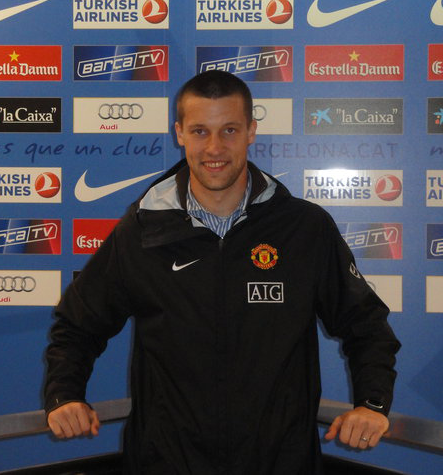 Evan Fuhs is an assistant men's soccer coach at Augsburg College, which is located in the heart of Minneapolis, MN. Fuhs is not only an assistant coach but an avid footy fan and he also loves to write about the sport. IMS asked Fuhs to check in with reports on their trip as the team tours España.
By Evan Fuhs Asst. Men's Soccer Coach Augsburg College

Yesterday morning, the Augsburg Men's Soccer team met at the Minneapolis-St. Paul airport to begin a 10-day tour of Spain. Including players, coaches, some parents and support staff, the traveling group totals 40. That pack made it from Minneapolis to Barcelona in about 24 hours, stopping in Chicago and New York along the way. In the process, the group managed to stage an impromptu push-up competition in Chicago and take some less than legal photos of customs officers in Barcelona.
Upon arriving in Barcelona, the group headed straight for the most visited museum in the famed city – the FC Barcelona museum at Camp Nou. After getting an idea of the meaning of the club's motto "mes que un club" (More than a club) and stocking up on the necessary Messi jerseys, the team rounded Barcelona to eat, check into the hotel and prepare for the match.
Tonight featured Messi and Barcelona against lowly Tenerife. With the Barça fans cheering in full, the Catalan rain pouring and Messi on song, the home side triumphed with a 4-1 scoreline. While that was surely the expected result, the tie found drama in the fact that Barcelona need max points to edge out Real Madrid in this last week of the season.
Considering that the competitiveness of the Augsburg team had already spawned a push-up competition, it came as no surprise that the tram ride back to the hotel featured a similar pull-up demonstration on the tram's support beams. Now, after twenty four hours of travel and a day of immersion in Catalan passion, the team rests in preparation for their first match tomorrow evening.
Keep following IMS for the details on the match results and associated adventures of the team over the next 10 days.  Additionally, check out Augsburg's men's soccer website for more details and reflections from the players.