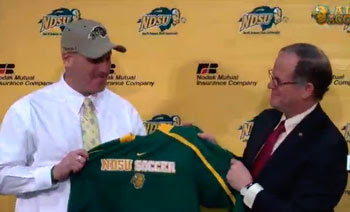 The North Dakota State University Women's Soccer team has a new head coach. Mark Cook, who has been director of coaching for both Bangu and the Minnesota Thunder Academy for the past 11 years, was announced as the new head coach of the Division I school filling the void left by outgoing coach Pete Cuadrado, who compiled an overall record of 93-62-8 in his nine years at the school.
"On behalf of women's soccer at North Dakota State University I am extremely pleased to welcome Mark Cook as the new head coach," said NDSU director of women's athletics Lynn Dorn. "Mark's extensive knowledge and understanding of soccer, his work ethic, and capacity to teach and develop talent are exceptional."
Watch the press conference after the jump. —>
"I'm really excited to be part of the NDSU community," said Cook at the press conference on Wednesday. "I got a sense on my visit that this is a great place to be. I can't wait to start working with the players, faculty and staff at North Dakota State. I would like to thank Pete Cuadrado and John Ross for all their hard work and dedication for the past nine years. They've left the program in great shape and I look forward to continuing their success."
Cook has played a key role in developing a very successful MTA girl's program by both directing operations and coaching. He has also spent time coaching both at Academy of Holy Angels and Bloomington Jefferson high schools. The knowledge of Minnesota's top women soccer players will certainly help Cook with his recruiting at NDSU, who rely heavily on talent from the Gopher state. Last year's roster included 14 Minnesotans, which was over half of the Bison roster.
Cook holds the USSF 'A' license, a NSCAA Premier License and Director of Coaching Diploma.
Danny Storlien, arguably Minnesota's most accomplished women's soccer coach, will assume the role of MTA's Girls Coaching Director.