Just last week I reported that Amos Magee was named to the coaching staff of the MLS Portland Timbers. Amos had been with the USL and USSF D2 Portland Timbers and was asked to stay on as an assistant coach when the team goes to MLS this coming season. It was a big announcement and a big day for Amos that we could all celebrate.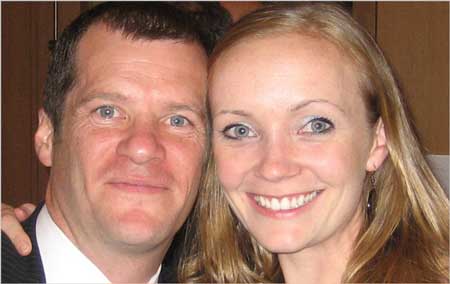 Now Amos has even more celebrating to do. This past week I ran into Amos's father Paul at the Kowalski's in St. Paul. He shared that he had a big weekend coming up as Amos was getting married in St. Paul on Saturday. So more big news for the Minnesota native.
While I normally wouldn't share such a thing on IMS because after all, it is Amos's private business and this is not a exactly the web site people go to to get their social scene news, I changed my mind when my old soccer friend David brought to my attention an article in the New York Times. Not just any article mind you, but a 56o word article on Amos's engagement to Charlotte Joan Tuttle. Talk about making the social scene. It's a pretty fun and romantic article that reminded me of an old small town newspaper story. Here's an excerpt:
"I decided I'd come over and watch TV," she said, but brought her two cats along as chaperones.

When he greeted Ms. Tuttle and her cats, he recalled thinking it was strange, but he decided to play it cool. "I thought she either has some serious cat issues or cat separation anxiety or she's trying to make me blink," he said. "I made her dinner and then she slept over, but we didn't even kiss."

Ms. Tuttle, who had counted on a negative reaction from Mr. Magee, was surprised. "He welcomed us with open arms, and I was like, 'I should give him a chance, truly,' " she remembered.

Soon afterward she did just that, and came back to his house, not only with her cats, but also with their litter box, water and pet food. This time, however, the cats failed to block Mr. Magee's maneuvers. "We flirted and watched a movie and finally kissed," he said.
You can find the article in its entirety by going here.
A big congratulations and best wishes go out to the very hip and socially climbing Amos Magee and Charlotte Tuttle.