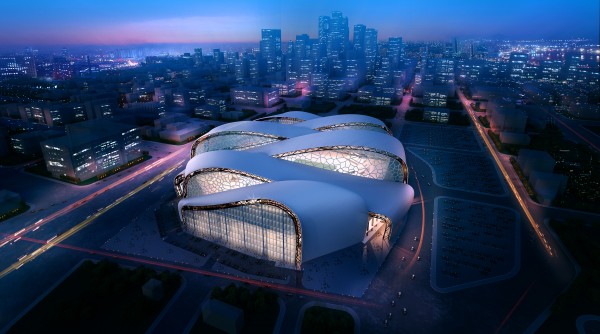 Proposed stadium sketch offered by HKS in their original bid. The Minnesota Vikings emphasized the stadium will most likely look very different then this image. Click on photo for full resolution image.
The Minnesota Vikings, who have said they have a possible future interest in bringing a Major League Soccer team in to Minnesota to play in their new $970 million stadium, announced on Friday their choice for an architectural firm that will build the new venue.
HKS Inc., out of Dallas and who recently designed stadiums for the Dallas Cowboys and the Indianapolis Colts, have been chosen by the Vikings which was announced by the new Minnesota Sports Facilities Authority and Lester Bagley of the Vikings.
Bagley stated that the Vikings believed that HKS had the strongest bid and was the most creative in their designs and when the project is complete in 2016 they will have "a world-class facility."
"A few years from now, when we walk in there, it's going to be an absolutely incredible experience that will change people's lives in this state, " said HKS principal Mark Williams.
Williams also stated that they want the public's input on the stadium and will be holding meetings with the Vikings throughout the state to do so.
"Taking this conversation out in the communities is an important piece," said Michele Kelm-Helgen, Minnesota Sports Facilities Authority chairwoman. "This is a statewide asset. Everybody's interested in how this is going to look."
HKS will receive $34 million for their work on the project. "I do believe we did get the best firm at the best price," Kelm-Helgen said.
The Dallas firm also offered up several preliminary images of the stadium with their bid that seem very different then the Lukus Oil Stadium in Indianapolis that the Vikings have previously said they would like their facility to look like. The Vikings emphasized that the final images of the proposed venue would not be available until after the first of the year and will most likely look very different from those offered up in the HKS bid. However, the transparency in the stadiums that were presented could be one solution to allowing more light into the venue as the Vikings have continued to say that they would like a retractable feature but only if they can fit it into the current budget.