The Silverbacks announced this week that, as expected, Brian Haynes has now assumed the head coaching job after being brought in by interim head coach Eric Wynalda a month ago. Haynes has played the part of assistant to Wynalda during that time. With Wynalda heading back to Fox Soccer full time this past week, he has handed over his responsibilities to Haynes.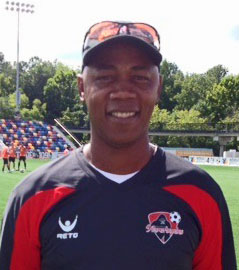 "I already knew coming in that Brian was a very capable coach, and that is why I brought him here to Atlanta as an assistant," Wynalda said. "Over the course of the last month, however, I was amazed at how many things we saw eye-to-eye on, so I can say that the team is in great hands with Brian in charge."
The team also revealed they had tried to work with FOX Soccer to allow Wynalda to stay longer but a deal was not able to be reached. Wynalda will remain with the club as a team advisor, a role that will entail periodic visits back to Atlanta. The former U.S. Men's National Team star posted a 3-1-3 record as the team's interim head coach.
Haynes was soloing in Wynalda's absence in a 4-2 win over the Strikers at home two weeks ago. Haynes felt the team victory without Wynalda there was helpful as he moves forward.
"It was nice to get a taste of what it feels like to win a game when you're fully in charge of a team," Haynes said. "It makes you feel good that you can do your job and have the players respect you as the head coach. Once again, I'm very excited for this opportunity and I owe a lot to Eric for believing in me as a coach."
The Silverbacks host the Stars tonight at 6:30 CT at Silverbacks Park and will be looking to take advantage of the Minnesota team, who has struggled as of late.
~~~
Silverbacks Reserves Head Coach Ricardo Montoya was also named assistant coach of the professional side this week. Montoya has been in charge of the organization's reserve team since 2007, and has recently been helping the professional side with coaching and scouting following the end of the Reserves' NPSL season.
Also joining the professional team's coaching staff is assistant coach Alejandro Pombo and fitness coach Juan Castellanos. who both recently served on the Reserves staff under Montoya. All three of Haynes' new assistants will remain in charge of the Reserves on top of their new duties with the professional team.