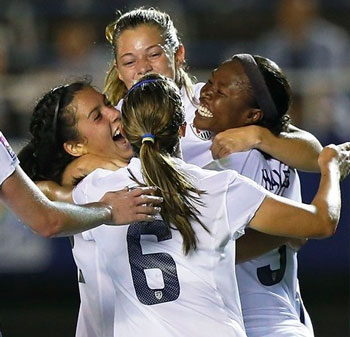 For the US U-20 Women's soccer team, it must have seemed like one of those days where they did everything right but score goals. In one sequence they had a ball hit the post, look to be going in again and then cleared off the line. The result of their 17 to 3 shot advantage, 8 to 2 shots on goal advantage, and their 10 to 1 corner kick advantage, was a 1-1 draw with the Peoples Republic of China.
While the result may not be what the Americans were looking for, the point now has the team sitting in second place in Group D with four points. Germany defeated Ghana 1-0 in the first match of the evening to take the lead in the group with six points and clinch a quarterfinal berth. China (1 point) sits in third place while Ghana was eliminated after losing its second straight match.
China got on the board first in the 19th minute with poor communication on the usually stable defensive back line. Han Jiayuan laid in a nice cross from the right flank that found Shen Lili. The US defense missed clearing the ball and with 5 defenders in the area, somehow, no one picked up Lili who was able to shoot on target from 18 yards out and putting China up 1-0. Minnesota's Kassey Kallman was not used as Cari Roccaro got the start instead.
The US was able to tie the match in the 36th minute when Maya Hayes scored her fourth of the tournament and her 16th international goal. Kealia Ohai dribbled to the end line and cut the ball back inside the box where Hayes smashed her first touch into the goal and past Chinese goalkeeper Shen Li.
Video highlights from FIFA.com.
The USA can advance to the quarterfinals with a win or a draw against Germany in their final Group D match on Monday, Aug. 27, at Miyagi Stadium in Rifu, Japan. The match, which features the event's only two-time champions in the USA (2002 U-19 and 2008 U-20 titles) and Germany (2004 U-19 and 2010 U-20 crowns), will be broadcast live on ESPN2 and ESPN3 starting at 2:50 a.m. ET. Fans can also follow the match on ussoccer.com's MatchTracker and on Twitter @ussoccer_ynt.
~~~
Canada lost their match to Norway on Thursday 2-1 with a come from behind win. After two matches the Canadians have 3 points in group C, tied with Norway. Korea has gathered all 6 points so far and sit in first place. The Canadians are in a tough spot now as they must play first place Korea in their last match while Norway play Argentina who are in last place and have yet to gain a point.