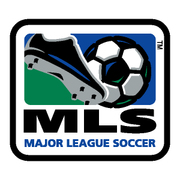 This is the first in a two-part series examining the current state of the MLS Reserve League and the need for improvement in the next 10 years. The series looks at the league as it stands today, the improvements that must be made to help MLS nurture talent from within the borders of the U.S and Canada and looks at the complicated but exciting ideas for integrating the league into 2nd or 3rd division pro soccer in America – a task that could also help lower division leagues as well with branding and stability.

Part 1 – Examining the current state of the MLS Reserve League and identifying the issues.
In the late summer of 2011, Major League Soccer's executive vice president Nelson Rodriguez made known to the public that the league's board of governors had made an audacious goal: that MLS would be one of the top leagues in the world by 2022.
"We're operating now with a clear vision in mind. The vision that has been articulated by our board is that by 2022 soccer is to be a preeminent sport in North America and MLS is to be among the best leagues," said Rodriguez, who is in charge of competition and game operations.
"We really are primed now to take the next step in terms of our growth and our development," said the league's other executive vice president Todd Durbin, whose charge is competition and player relations. "What we have been tasked with, both Nelson and I from the ownership group, take a step back, look at where we are as a business and help the owners take us to the next level, and to be a bit bold in terms of our thinking and the way in which we approach it."
The new "task" for Durbin and Rodriguez will not be an easy one. Yes, MLS seems like a league finally coming into their own with most teams now playing in soccer-specific stadiums and attendance in 2011 surpassing the NBA and NHL. We are also told of MLS teams finally starting to break even financially with a few actually turning a profit. But in order to make that next step, MLS certainly needs to look at its player development in order to boost the quality of American players. That young talent could potentially raise the level of play in the league from within its own borders at a cost much cheaper than purchasing outside foreign players. The question is, how can MLS help that equation with the short time frame of ten years?
Like all issues surrounding soccer in North America, the answers are often complicated and cannot simply be solved by looking to the rest of the world as a road map. With the U.S. coming to the pro game late and with such an expansive landscape to cover, the equation becomes difficult at best. Still, there are things that can be learned from the rest of the world. Other issues, MLS, the CSA and USSF must forge on their own. They all leave unique problems to solve for soccer development in the U.S. and Canada.
So it was no surprise that, just a few months after the late August announcement by Durbin and Rodriguez, they were talking about the subject again at the MLS Cup's Supporters Summit held in Los Angeles. Standing next to Rodriguez under a light drizzling rain at Home Depot Center, Durbin spoke about short term player development by focusing in on the reserve league which was resurrected after the collective bargaining agreement which was signed before the start of the 2011 season. He explained the league would stay static for 2012 with "minor modifications." Much like 2011, the reserves would play a 10-game schedule but would finish by September 30th. He also stated they were looking at more "stand alone games" which he said the league's technical staffs feel "will create a better development environment." As well they would ask the teams "to take a close look to see if they can schedule some of those games in their home stadium, perhaps even do them as double headers."
However, it was Durbin's remarks on the long-term focus of the reserve league that seemed to catch the attendees' interest.
"At the same time we will be having a parallel conversation in regard with what we're doing with the reserve league long term," explained Durbin. "We are absolutely committed to having the best environment to transition our players from youth soccer to full professional soccer. That will happen in one of two ways. Either we are going to expand our current reserve league which would involve us expanding our rosters and playing perhaps 20 or 24 games and ramping that up over the course of two or three years. The other thing we are going to be examining very closely in 2012 is a possible deep relationship with the second division here in this country, to see if maybe there's a way we can form a partnership with the second division that could fulfill our needs as well."
Alfonso Mondelo and Jeff Agoos are technical directors at MLS in charge of player development and scouting. Mondelo, a native of Spain, the country that arguably has the best youth player development in the world at the current time, also spent time coaching the MetroStars, Tampa Bay Mutiny and the Puerto Rican national team. In a recent interview with IMS, Mondelo explained some of the unique challenges of incorporating a reserve league into an existing 2nd or 3rd tier pro soccer league in the U.S. and Canada. However, one thing was clear to Mondelo, the current reserve league system is not good enough.
"I think in an ideal world in MLS, we would like to have two separate teams, a first team and a reserve team," Modelo said. "There are budget constrictions that are preventing us from doing that right now. Without having that, how do we give the players the minutes, the games and quality of games to help them to develop?"
"We know there's a void when our players are going to college and only playing a 2- to 3-month season. They are basically getting the amount of games in 4 years that they should be getting in a year. That is not helping these players to come in and make an immediate impact. So how do we achieve this result? The reserve league is a way to give them some games. In this current status, with 10 games a year, it's not sufficient. We all think, ideally, having a 2nd division where those players are competing on a week-to-week basis, where there are actually points at stake and where the competition is really meaningful, we hope to expedite that."
Mondelo states that at the current time and with NCAA rules not allowing college players to stand alongside paid professionals on a soccer pitch, it might be the MLS Development Academy players who have the best opportunities.
"The way it is right now those players who are from numbers 19-28 in the rosters are getting the benefit of playing in this league," said Mondelo. "But the ones who I personally feel are benefiting the most are those academy kids. The 15-, 16- and 17-year-olds, that are getting the experience of playing next to all these veterans, that's going to expedite their development more."
In fact recent reports seem to prove Mondelo's point. Since 2008, 47 youth club players either from affiliated clubs or Development Academy teams have now been signed by MLS to contracts under the "home grown" rule, and the league expects that pattern to continue. However, MLS cannot ignore the college players who come through the system or the home grown players signed to contracts but who are not quite ready for the first team.
North American Soccer League commissioner David Downs has spent a great deal of time pondering these same issues while looking at ways of incorporating the reserves into his second division league to make both MLS and the NASL stronger. "What does the MLS Reserve league actually accomplish?" asked Downs. In order to research that question he picked three representative MLS reserve teams and used published box scores to collect some data. He admits that the sampling size is not large enough to have concrete results but it does start to paint a clear picture of what happened in the MLS reserve league in 2011. The three random teams were DC United, Real Salt Lake and the Chicago Fire. Here's what he found.
•Each team used an average of 35 different players in those reserve games.
•Of those 35 players, 7 were starters (meaning they made appearances in at least 3/4 of the first teams matches).
•16 were MLS bench players.
•12 were either academy players, trialists, coaches or guest players.
"In fairness, 75% of the minutes in those reserve games went to what I would call MLS bench players. The average amount of minutes played by those 16 bench players was approximately 400 per season," said Downs who compares that to NASL starters who often log in more than 2,000 minutes per season.
Downs states that when MLS reinstituted the reserve league and expanded from 24 to 30 players, the CBA stated the minimum salary was $32,600.00. "That's a pretty significant investment [$195,600} in those 6 players," says Downs. "The interesting thing is, those 6 players get virtually no minutes in MLS. Yet having those extra 6 players clearly didn't give you a deep enough bench to play an MLS game on Saturday and play a reserve league game on Sunday. They literally scrambled to pull in some assistant coaches and some players from around the area who they knew to be good players or trialists. It's sort of one size fits all – works in a number of manners – sort of – but doesn't work well for any one function."
Mondelo says he understands that financial commitment and it's one the league is now willing to make. "For our clubs this is a major investment to sign all these extra players who are not getting playing time. So in order to develop 2 or 3 good players, you have to sign 11-14. So it is an investment and something that has to be looked at for the long term improvement of players in MLS."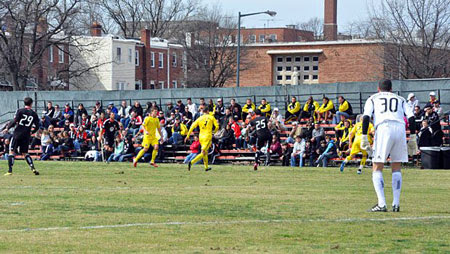 DC United play the Columbus Crew in a reserve game with a sprinkling of fans in attendance. Photo courtesy of MLS Soccer.com
Another issue MLS is dealing with is conflicting views between teams' coaching and development staffs in the best way to advance their reserve players. Mondelo states that even his team sometimes butts heads with the teams' technical staffs. "Where we [MLS] differ from some of the clubs is, we would love to have the reserve team play right after the first team or the day after. Some of the clubs prefer to have the reserve teams play midweek. So there is conflict there as to what is the best way to run this reserve league and how we are going to get the maximum out of it."
He also explained that there is a difference in opinion between clubs in how much competition young players should be facing which often goes hand-in-hand with how much control they have on their reserve players. He says it's tricky allowing coaching staff to observe them in games yet have them available for training to help compete against the first team. "On the positive side they are going to be playing more competitive games – more meaningful games – and that's going to bring out the best in them. On the negative side the players might not be available to them [first team] day-in and day-out. So figuring out a system where we could have those players participate in the 2nd division as needed but able to be called back into the first team, which is where we really want to see them, is important," Mondelo said.
"For some teams they feel it's too much to have guys who are sitting on the bench turning right around and having to play a match," continued Mondelo. "They feel the mentality, it just isn't right. Some teams feel that the midweek games are more beneficial to the development. Others still feel it's too disruptive to the training because many players are getting pulled out for the reserve game and you can't have a meaningful training session for the first team. These are just some of the things we are dealing with in trying to figure out since the league increased the number of players that are in each roster. Clearly we have not found the correct model yet."
Ultimately, any decision that will be made concerning the Reserve League will have to go through the MLS Technical Committee and that too may prove challenging in itself. Will Kuhns, Director of Communications for MLS, explains that Nelson Rodriguez oversees the committee, but all members of the competition department at MLS participate, including Todd Durbin, as do two representatives from each of the 19 clubs, and a representative from the Players Union.
"Generally speaking, each team's technical director and one other person, sometimes the manager/coach, sometimes an ownership type person are on the committee," explained Kuhns. "The Technical Committee makes its recommendations and proposals to the Competition Committee, which consists of a smaller group that includes members of the MLS Board of Governors [the owners]. Once the Competition Committee recommends a plan to the Board of Governors, it is usually adopted."
Evan though Mondelo talks about partnering with a lower division league, he is still careful in stating if or when it will happen, pointing out stability of those leagues as a major stumbling block. "Ideally, could there be an affiliation with the NASL? Maybe?" Mondelo said. "Maybe that is a way of increasing the number of teams that are participating in the reserve league and making the competition more meaningful. But I don't believe that's something that's going to happen in the next year or two. Right now MLS is acting like the top league in America, yet it's still a developmental league. I think when we are able to separate those two is when we will be able to increase that association."
"I thank stability is the key to everything," Mondelo continued. "Being able to have clubs that we know are going to be around for a number of years. That are going to be content with having a business model that means being a good 2nd division team and league. That they are in markets that can support a second division team that will never be a 1st division team – they don't have enough numbers [population]- but that they can still be good for the sport. When we find enough of those as well as the MLS reserve league, then I think we could have a formidable second division that will become more regionalized. You would limit the travel and yet make those game more meaningful."
Kuhns agrees, citing the USSF and the new standards they set in 2010 for 2nd division. "U.S. Soccer has taken a much more hands-on approach to D2 in the last couple of years. That's the beginning of that effort in terms of soccer in this country. It's like, let's really make sure we are meeting certain standards and that we are moving forward with a long term vision, not just a short term one. Making a sustainable business model. But all those things take time. We're not a year away from having that sort of relationship."
So how could lower professional leagues and their teams in the U.S. and Canada work with MLS in helping them get the competition those reserve players need to improve, yet strengthening their own leagues by: adding players, possibly adding teams and strengthening their brand equity through a relationship with America's top soccer league? That is the question explored in part 2.
Part 2 – Integrating MLS Reserve League into America's Lower Divisions.