The Fort Lauderdale Strikers have unveiled their primary and alternate kits for 2012 which are produced by Joma.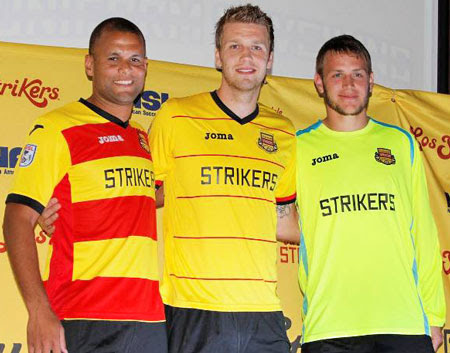 "This year's jersey has been redesigned and is completely unique to the Strikers," said Tommy Knapp, Strikers Commercial Director. "The uniform of the Fort Lauderdale Strikers is both historic and iconic. The red and yellow hoops are a part of soccer history, not only here in South Florida, but around the world."
Click 'read more' for more information, another photo and a video of the Unveiling—>
According to the Strikers press release, the alternate jersey demonstrates a departure from the mainly white alternate uniform from last season. The shirt is a modern take on the classic Strikers hoops. The main color is Strikers Gold with thin horizontal pinstripes in Strikers Red. The Strikers accent color of charcoal grey is found on the collar and repeated on the hem of the sleeves along with red.

A new feature this season is the secondary logo, known as the ligature, embroidered on the back of the jersey. The ligature logo is made up of a large "S" with a script "FTL" inside it. All jerseys this season will bear the NASL logo patch on the sleeve. Design queues shared from the original Strikers uniforms include the wide red and yellow alternating hoops and the charcoal grey collar and sleeve hems. Like the alternate jersey, this jersey also features an embroidered ligature on the back.
Video courtesy of the Miami Ultras