In a turnaround from their original plans to lay an artificial turf field at the Puerto Rico Islanders home field of Juan Ramon Loubriel Stadium, where construction is well underway, Bayamon Mayor Ramón Luis Rivera, Jr., now says the field will be natural grass.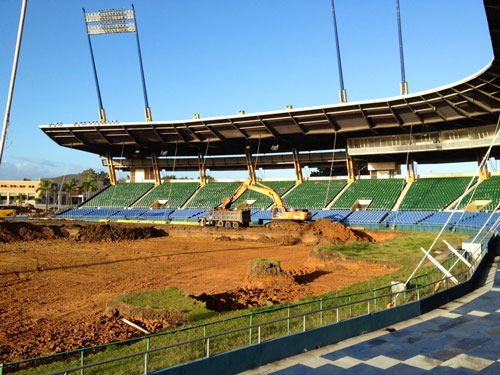 IMS reported in late February on the major renovations being done at the stadium which will be a two-stage process with the field drainage system being worked first, along with a new playing surface which was to have been an artificial one due to the 50 plus inches of rain the area receives each year. The $7 million rehab was to have its first stage done by mid or late May before the Puerto Rico Islanders could use the facility again as their home field. But now reports say that field may not be ready until late July, over halfway through the team's NASL season.
According to a report by Puerto Rico sports reporter for Primera Hora.com, Esteban Rivera Pagan, the mayor of Bayamon has done an about face after concerns of major delays caused by a legal situation with the installer of the artificial surface.
""We determined that the installation of artificial turf or natural grass was going to take basically the same amount of time," said Rivera. "In fact with the natural grass we will save money."
The report also says that there were several delays in the preparation for the artificial surface and now there has been a legal delay from the company who were hired to install the turf. According to Mayor Rivera, there was a threat of a possible lawsuit revolving around the contract to install the artificial surface.
The report by Pagan states that the mayor felt that the planting of the grass will be held in early May, so that the stadium should be ready to host matches at the end of July.
The Spanish National Team will come to Puerto Rico to play an international friendly, which is scheduled for August 15th. That match against the Puerto Rican National Team is to be played at Juan Ramón Loubriel Stadium and the 1st stage of construction has to be finished by the time the high profile friendly takes place.
The mayor said he was also concerned with the lawsuit and the delay it could cause the Islanders who are currently scheduled to temporarily play their home games at Bayamón Soccer Complex, about 3 miles from Juan Ramón Loubriel. That stadium only seats about 1000 people which will mean a major financial hardship for the team. IMS contributor Jay Long has reported that the team was not selling season tickets due to the venue change.
A spokesperson for the Islanders told IMS on Wednesday that the team will hold at press conference on Monday, April 2 to address the issues of a home venue and construction at Juan Ramón Loubriel.