The second year of Tony Sanneh's Gala 4 Goals fundraiser event for the Sanneh Foundation would have to be looked at as an even bigger success then last year's event. This year's Gala 4 Goals was held in downtown Minneapolis at The Depot which seemed to be a perfect setting to host the fundraiser.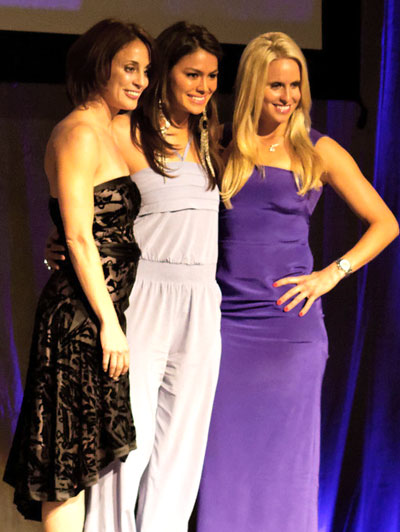 Like last year's event, Gala 4 Goals felt much more like a celebration of soccer in Minnesota than just a fundraiser for the Sanneh Foundation, with people from many different facets of the game gathering for a night to find joy in the sport we all love. In fact Gala 4 Goals drew 715 attendees this year who had the opportunity to make silent bids on many soccer and non-soccer related items while they enjoyed adult beverages and appetizers all before the program started.
Eventually the attendees shifted to the main room at The Depot where the program commenced. Ex US National Team U-23 player and Fox Soccer host and correspondent, Temryss Lane shared the podium with Adam Gislason, an old friend of Tony's and supporter of the foundation.
This year's event honored two names synonymous with soccer in Minnesota. Alan Merrick and Phil Johnson were both awarded with the Sanneh Foundation's Lifetime Achievement Award.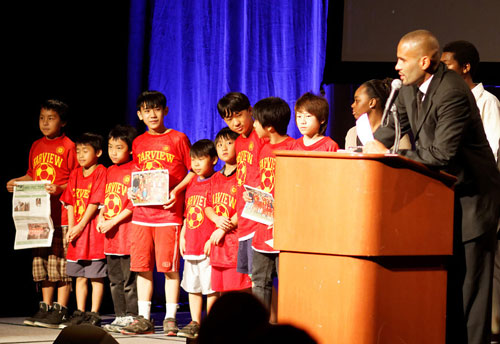 Tony brings up a team of players from a youth community team in North East Minneapolis that the Sanneh Foundation helped.
Alan Merrick moved to Minnesota after playing professionally in his native England. He played for the Kicks and Strikers and managing the latter. He opened Minnesota's first indoor soccer facility for youth and has coached and directed youth and adult soccer programs at many levels.
Phil Johnson has been influential in youth soccer in Minnesota from the early days. In 1984 he co-founded the St. Croix Soccer Club. In 31 years as head coach of the Stillwater High School boy's soccer team he has compiled an impressive 380-136-49 record, winning the NSCAA'S Coach of the Year in 1997. Johnson has also been active in soccer at the state level with MYSA and MN State High School Soccer Coaches Association.
Also awarded at the event and given a $500.00 scholarship were Leadership Award winners Brennan Espinda Banick and Peggy Renier. Both young soccer players were honored for not only their contributions on the soccer field but to the community they live in as well.
Guest speakers Judge Michael James Davis, senior US National Team players Leslie Osborne and Kate Markgraf, all spoke to the crowd.
There was a live auction at the end of the program and eventually the action moved to the dance floor where DJ Jake Rudh got the crowd moving.