Fort Lauderdale, Florida –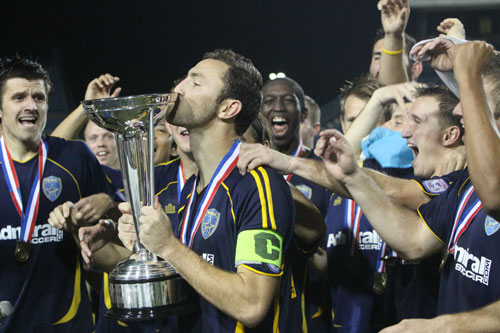 For the second time in Minnesota history a professional soccer team has brought home a national championship. The NSC Minnesota Stars ground out a gutsy 0-0 draw with the Fort Lauderdale Strikers Saturday evening at Lockhart Stadium in Fort Lauderdale, Florida. The second leg result combined with last week's 3-1 Stars win over the Strikers meant Minnesota wins the NASL Championship 3-1 aggregate.
The last time Minnesota hoisted a trophy was in 1999 when the Minnesota Thunder defeated the Rochester Rhinos for the A-League Championship at the NSC Stadium in Blaine, Minnesota. The coach of that team was the legendary Buzz Lagos who is synonymous with soccer in Minnesota. The coach of this year's national champions is also a Lagos, Manny, the son of Buzz. Manny knows a thing or two himself about winning titles. He played on three different MLS Cup Championship teams in his career before retiring and taking on the head coaching position last season for the Minnesota Stars.
"He's one of the most amazing coaches ever," said Manny Lagos in reference to his father. "He's been such a legacy to how he's gotten us to this point. He's such an amazing man and such an amazing legacy from Minnesota that a lot of these people wouldn't be here and these fans wouldn't be here if it wasn't for him. It's special and obviously for me, he has high expectations for me. So it's nice to feel like hopefully I've lived up to them this year."
Explaining the team's post-season success after finishing 6th in the NASL's 8 team league, Lagos reminded reporters that his team sat in a much high position most of the season. "A lot of people have to remember there was only 5 points from 6th to 3rd place. That's a big thing about the competitiveness of this (NASL) league. We just had one little bad stretch that got us in trouble. We had great start, a good middle but a bad middle third. Then we finished the season strong."
Minnesota was under attack from the early stages of this second leg championship game. Thanks to a committed midfield they threw men behind the ball and kept the Strikers, who needed 2 goals to draw the series even, from having quality chances. In fact the Strikers out-shot the Stars in the first half but never put a shot on Stars goalkeeper Joe Warren.
The second half saw Fort Lauderdale make several substitutions and throw players forward to attack Minnesota's goal. But the midfield of Minnesota continued their impressive late-season form stifling the Strikers from getting balls served into their attackers. As the game dragged on it was apparent that Minnesota would absorb the pressure from the Strikers and try to retain their two-goal aggregate lead. Eventually the thwarted effort frustrated Fort Lauderdale. With the Strikers stretched thin in defense, Minnesota created several chances themselves and had a number of nice strings of possession.
"We dug ourselves a hole in Minnesota," said Strikers coach Daryl Shore. "Give them some credit, they won their game at home and came to our place and defend well. We had a tough time breaking them down."
"It just wasn't our night tonight," Strikers defender Martyn Lancaster said. "I think we could have been playing all night and we still wouldn't have scored. Give credit to Minnesota tonight, they defended like lions."
"Our fans that traveled here, we didn't get to give them a good game, but we got them a trophy, so that's the important part," said central defender and team captain Kyle Altman, referring to the 20 or so Minnesota Dark Clouds supporters as well as many parents, grandparents, wives and girlfriends who also made the trip to South Florida.
"We didn't intend to sit back and defend for 90 minutes but as the game progressed it looked like that was just going to be the nature of it. I thought our midfield defended great as they cut off a lot of supply to their forwards which made our job a lot easier. It was just a solid performance all the way around. They don't lose a lot of games here and we knew it was going to be difficult. But I guarantee you every single person on this team is happy with the 0-0 score."
Altman said this is his first national championship of any sort although he came close in college playing for division 3 Trinity University. "We lost the NCAA D-III Championship in penalty kicks in Orlando, in my senior year. We tied that game 0-0 too, but lost on PKs. So it's good to win one 0-0. This feels fantastic."
"For the most part tonight, the guys put in a valiant effort. There was such commitment to defend for 90 minutes. I think it's such a moment for the guys. Credit to them, they have been so amazing this year. If people knew the commitment and effort they put in, not just on the field but off the field, what they do in the community, how they represent themselves, how they believe in what we're trying to do in Minnesota – I'm just so happy for them. It's very rare to win a championship, and they are champions."
"I hope that by winning this championship, by the way we've done it, the story we've told, that it will bring awareness to finally find the right owner for this team," Lagos concluded."
The Stars return to Minnesota at 10:30 a.m. on Monday, Oct. 31. Fans are welcome to meet them in Terminal 2 at the Minneapolis-St. Paul airport and are also encouraged to attend a championship celebration at Brit's Pub in downtown Minneapolis starting at 7:30 p.m. Tuesday night.
"We don't want to shy away from what we are, and that's a team that's owned by the league and looking for the right owner," Lagos said. "I hope the pride we bring back to the state open eyes and gives Minnesotans some pride in this state as a soccer market. We're looking forward to coming home and sharing this moment with the fans who weren't able to travel."
More of Jeremy Olson's photos of the championship match can be found on the IMSoccer News Facebook page.