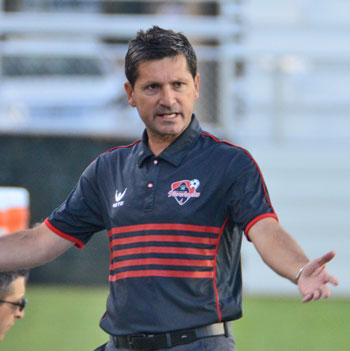 The Atlanta Silverbacks announced on Sunday evening that they have fired their 2nd head coach in the past 7 months. Alex Pineda Chacón has been released from his duties after Saturday nights 3-0 loss to San Antonio.
The Silverbacks also announced that the new head coach and team advisor will be announced  at 9 a.m. ET on Monday, and the new coach will be available to meet with the media following the team's training session at Atlanta Silverbacks Park at 10:30 a.m.
The 42-year-old Honduran born Chacón was named head coach last November after a successful playing career in the Caribbean, South American and North America playing in both the Mexican Primera Division and MLS where he was named the MLS MVP in 2001.
Chacón replaced José Manuel Abundis who led the Silverbacks through the first season in Division II soccer after the organizing had taken a two year hiatus. Abundis was replaced after accumulating only 16 points in 28 games in the 2011 season and finishing in last place with a 4-20-4 record.
Chacón, who was assistant coach under Abundis, was believed to be on the chopping block for the last several weeks. In the offseason Chacón brought in some quality veteran talent like Tony McManus, Martin Lancaster and most notably Chilean international, Reinaldo Navia. As well, many of the teams younger players were in their second season as pros and expected to perform better in 2012. But the team has done anything but and Chacón was never able to jump start the Silverbacks. Chacón's record this season was a dismal 1-8-5 with a -16 goal differential, giving up 30 goals in 14 games.
The team also had a shockingly bad problem with discipline. Atlanta accumulated 6 red cards in their first 7 games, something Chacón eventually got a handle on. The Silverbacks still lead the league in red cards ejections with 8 and yellow cards with 33.
Even more shocking is the teams cumulative record over the last two seasons which is 5-28-9. Since September 4th of 2011 the team has only 1 win and that came on June 3rd in Edmonton against the other bottom of the table team, FC Edmonton. It was that very weekend when it was first rumored that Chacón's job was in peril unless the team got a win. The Monday after the victory over Edmonton the Silverbacks announced the resignation of long time employee and president of the Silverbacks, Michael Oki.
A national media conference call will be held on Tuesday at 12 p.m. ET with the new head coach. Details on the call will be released later on Monday.