San Antonio Scorpions owner Gordon Hartman announced yesterday that his team has landed a significant sponsorship with Toyota for both the new soccer-specific stadium being built for the team and his inclusive amusement park, Morgan's Wonderland. Hartman also stated that the stadium, which will be called Toyota Field when it opens next spring, will seat 8,000.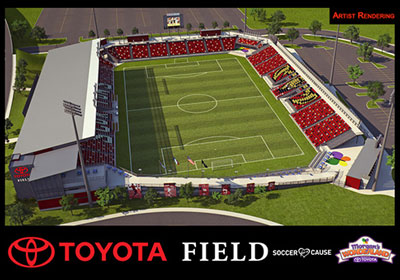 Michael Hitchcock, president of the Scorpions, told IMS on Tuesday afternoon the sponsorship with Toyota is "literally two different agreements and was a team effort that has multiple layers."
Toyota will provide major financial support for the 25-acre theme park Morgan's Wonderland which Hartman built for those with special needs like his daughter, Morgan. Signage will be featured throughout the park and in promotional materials. Hartman has stated previously that he built the STAR Soccer Complex next to the theme park and launched the Scorpions so that all profits from both ventures would go toward funding Morgan's Wonderland.
The second component to the deal is the naming rights for the Stadium which will be called Toyota Field. Hartman said the two part deal is a multi-year, multimillion-dollar agreement.
Hitchcock said the announcement comes after a lot of effort that has been in the works for a long time. "The agreement was formulated with Gulf States Toyota which is based out of Houston and serves the Gulf States region. It's one of the more successful regions in the country in terms of sales and that there are six Toyota dealerships in the San Antonio area."
"What we've wanted all along for the Scorpions partner is a really strong national or global brand that had a major presence in San Antonio," said Hitchcock. "The reason we thought that was important is that when you have a company that share their commitment to the local community, it means they are going to be in it for the long haul and that's what we are looking for."
"We are pleased to be able to support the Scorpions, their games and their mission of funding for Morgan's Wonderland. It is a unique sports partnership," said J.C. Fassino, Vice President of Community Relations for The Friedkin Group, parent company of Gulf States Toyota.
Only one other stadium naming rights deal benefits an NASL team. It's believed that WakeMed Soccer Park, home of the Carolina RailHawks, does benefit the team even though the stadium is owned by Wake County, North Carolina and run by the city of Cary.
Toyota also sponsors Major League Soccer's Chicago Fire, whose Bridgeview Stadium is named Toyota Park.
While the team did announce that the new Toyota Field will seat 8,000 they did not bring attention to the fact that this is a significant change from the original plans of a 6,000 seat facility.
"The original plan was to open the stadium with 6,100 seats with a plan to expand in multiple phases," said Hitchcock. "We are actually going to build it at 8,000 seats. There will also be standing room only seating available so the capacity will actually be greater but there will be 8,000 seats."
"Coming out of our series of July games and based on our continued success with our attendance numbers, it confirmed our decision. So we made that decision in late July that we would explore expanding starting with Phase II. We had the architect work on rendering what that capacity might look like. We hadn't previously announced it but we did mention today that we will be opening the stadium next spring with 8,000 seats."
The first-year expansion Scorpions are having tremendous success both on and off the field. Hitchcock has told IMS previously that it is looking like the team will pull a small profit in its first year while playing at a high school stadium which he said he believes to be a first for a second division expansion team. The Scorpions are also in first place in the North American Soccer League, three-quarters of the way through the season and the team has averaged just under 10,000 fans a game.