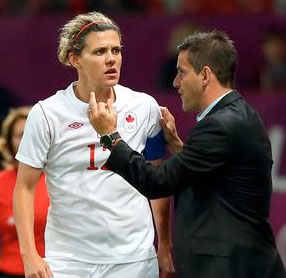 The fallout from the Women's Olympic Soccer match between the US and Canada that the Fiver of the Guardian is calling, "The greatest knockout match in major-tournament football since 1982," is still having repercussions.
A number of big stories about the incident broke yesterday.
First, the CBC reported yesterday that FIFA is investigating both the Canadian players and their coach, Englishman John Herdman, for post match remarks that were made.
Herdman made remarks before the match regarding illegal play by the Americans. After the match he was vocal about Norwegian referee Christiana Pedersen's call on goalkeeper Erin McLeod for holding the ball too long that gave the Americans a indirect free kick in the box which then resulted in a penalty kick that tied the score at 3 apiece.
"She'll have to sleep in bed tonight after watching the replays, she's got that to live with," said Herdman. "We'll move on from this, I wonder if she'll be able to."
Christine Sinclair had stated, ""Obviously, we're disappointed and upset. We felt that the referee took it away from us, so, yes, we are disappointed. We feel like we didn't lose, we feel like it was taken from us. It's a shame in a game like that, which is so important, that the ref decided the result before the game started."
FIFA said no timeline had been put on a decision. Others are asking for a review of Melissa Tancredi's head stomp of Carli Lloyd.
Meanwhile, Dan Wetzel of Yahoo Sports interviewed Abby Wambach who said she knew Canada was trying to slow the game down which included McLeod holding the ball as long as possible. In the article she admitted to counting out loud next to the referee whenever McLeod held the ball. "I got to 10 seconds right next to the referee, and at 10 seconds she blew the whistle," Wambach said.
Later in the day the CBC reported that they had spoken to referee Pedersen's father, Rolf, who said his daughter comes from a long line of referees in the family. The elder Pedersen said he had spoken to his daughter for about 10 minutes on Tuesday and she told him she had warned McLeod twice for holding the ball beyond the allowable six seconds.
Interestingly, Scotsman Martin Rennie, who is coach of the Canadian-based MLS team, Vancouver Whitecaps, also weighed in on the controversy. Rennie told The Vancouver Sun, "Watching it again, I realized the goalkeeper held the ball for 16 seconds, in the second half she held it for 17 seconds and then she got penalized for holding for 13 seconds. So, that's a long time on the ball and understandable why the ref called it."