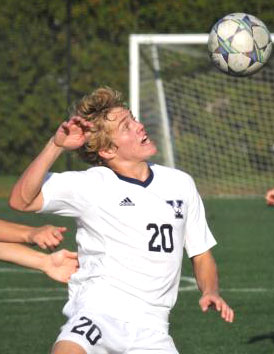 Max Morice
Word came from Yale University last week that Minnesota's Max Morice has left college to sign a one-year contract with Ligue 1 side Rennes. Max is the son of Pierre Morice who many in Minnesota may remember him from his short stint with the Minnesota Thunder.
Pierre, a native of Saint-Brieuc, France, moved to the Twin Cities in the mid '90s after playing for Nantes, Chamois Niortais, Saint-Étienne and Nice from 1980-91. He made 22 appearances for the Tampa Bay Rowdies in 93 before moving to Minnesota and playing for the Thunder in the 94-95 season. Pierre made 18 appearances for the team and is remembered for his excellent runs up the the flanks and his clinical crosses.
Max is a graduate of Shattuck-St. Mary's Academy where he participated in the US Soccer Development Academy. He attended Yale and made 17 appearances as a freshman and started in 14 matches.
"Some of the reasons I am really happy to be here are that Rennes has a great reputation for forming young players who go on to play in the club's first team," said Max Morice to MLS Soccer.com. "And Rennes is also close to where my grandparents live in Erquy, on the coast about an hour from here."
"I train and play with the reserves of the first team, which can pull players up during the season if they need them. My goal is to train, play and work toward offers for a first team contract next year."
Morice said that other teams had been in contact with him but Rennes is where he wanted to play.
"The Stade Rennais was on my radar since I finished high school," he said. "I was in contact with some other clubs before Rennes offered me a contract."