Gophers will wear new uniforms in Sunday's Big Ten Opener; Taylor Uhl racking up points and records.
The University of Minnesota Women's Soccer Team ( 5-3-0) has new uniforms to kick off the Big Ten season opener which is this Sunday for the Golden Gophers. They will be traveling to Columbus, Ohio to play the Buckeyes (5-2-0) and will be sporting hoops.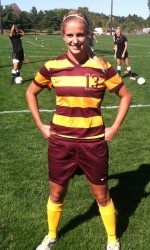 According to Gophersports.com, the team traditionally gets new uniforms every two years and this was the year for a switch. However, with the last minute coaching change for the Gophers, equipment manager John Blackshear wanted to hold off in making a selection until new coach Stefanie Golan could be involved. She enlisted the help of Blackshear and assistant coaches Krystle Seidel and Deana Waintraub. The only player to be involved was senior Tam Strahota.
Because of the delay, the uniforms were also delayed in getting to the team. But they did arrive and on Thursday afternoon and were introduced to the team when redshirt junior Steph Brandt who had been let in on the secret, and undergraduate assistant coach Katie Bethke, slipped off their warmups at a team meeting to unveil the hooped kits.
"It was really hard because I was so excited, but I couldn't let anyone know," said Strahota. "Everyone kept asking me why we didn't have new jerseys this season, and I just had to make excuses for why we hadn't gotten them. I am just relieved to have this off my plate now, and these jerseys are a big gift for everyone heading into the Big Ten season."
"We just thought that these jerseys looked sharp and gave us a little flare and uniqueness," remarked head coach Golan. "We are starting the conference season with new kits. We will look good, feel good and play good. So we are excited about our new look, which is just another thing to be pumped about going into the Big Ten season."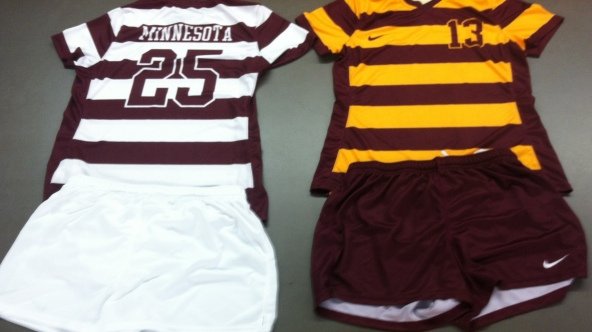 New kits for the 2012 Gopher Women's Soccer team.
"I really like the new jerseys, and I think they will give us a nice, new look," said sophomore Katie Thyken. "Hopefully, it will be like a new beginning for us as we enter Big Ten play and strive to win the conference title."
The Gophers will need their new kits and then some as traditionally the team has had slightly below average openers with a 7-8-3 record since 1994.
Taylor Uhl racking up points and records
This past week Taylor Uhl was at the top of the NCAA statistics for points with 26, 11 goals and 4 assists after her hat trick last Sunday. It was the sophomore forward's second of the season.
Gophersports.com reported that she had several record-breaking streaks come to an end recently. Uhl broke the school record for consecutive matches with a goal being scored in the first 10 minutes of the San Diego match, but the sophomore would continue to extend the streak two more matches. Uhl had her streak come to an end at nine in the Sunday match-up with Western Kentucky as they shadowed her the entire match.
Four days later, her 11-match streak of recording at least one point in a game was snapped in the team's 1-0 loss to San Diego State.