The University of Minnesota announced yesterday that head coach Mikki Denney Wright is resigning from her position as head coach of the Gophers women's soccer program. Wright, who has led the Gophers women's soccer program since 2004, said she is stepping aside to devote more time to her family.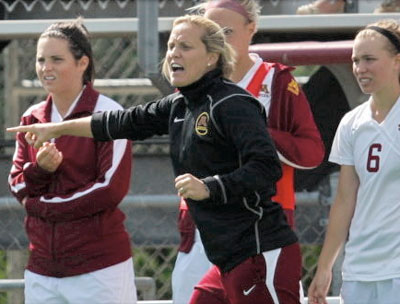 "After 14 years as a college coach, I have decided to step away to spend more time with my two young boys, Forrest and Duke," said Denney Wright. "I would like to thank Joel (Maturi), Regina (Sullivan), coach (Jerrod) Roh, coach (Krystle) Seidel and our staff for their hard work and dedication to Gopher soccer. I would also like to thank my husband Shane for the sacrifices he made allowing me to pursue my dreams. It was an honor to coach at the University of Minnesota. I am grateful to the tremendous young women in this program who made coaching each day such a wonderful experience. I know the program has a great future."
According to Maturi, Denney Wright will stay on in a temporary capacity while a national search is conducted to find her replacement.
In her eight years at Minnesota, Denney Wright compiled an overall record of 91-60-14, including a superlative run over the last four years that saw the Gophers win more than 70 percent of their games (53-19-8). Denney Wright also guided Minnesota to the 2008 Big Ten championship as well as the program's only NCAA Sweet 16 appearances, in both 2008 and 2010.
"Mikki did an outstanding job leading our women's soccer program," Maturi said. "I am deeply saddened to see her go, but I understand and respect her decision. She was a championship coach during her time with the Gophers and led our program to new heights. Just as important, though, is the positive impact she had on the lives of the many young women who played for her at the University of Minnesota. I wish her nothing but the best in the future."
Assistant coach Krystle (Kallman) Seidel said Wright's decision even came as a surprise to her assistants. "It was definitely not something any of us were anticipating. I think it was the right decision for Coach Mikki and her family. She has put the program in such a great place over the last 8 years. It really was an honor to coach for her and she will be sadly missed."