Much has been happening in the San Antonio soccer scene since IMS last checked in back in December with two articles. On December 13th, the San Antonio Independent School District (SAISD) tabled their decision on removing the track around Alamo Stadium which the school district owns. The SAISD planed on upgrading the aging stadium this year after a bond was passed by the district's voters in late 2010. Not part of the original $35 million plan for the revamp was the removal of the track to accommodate a full-sized soccer field that a professional team could play on, something Spurs Sports & Entertainment has been working towards so they can bring a USL PRO team to San Antonio. SS&E have claimed they hope to someday move the team up to MLS, which many question when the state already has 2 MLS teams.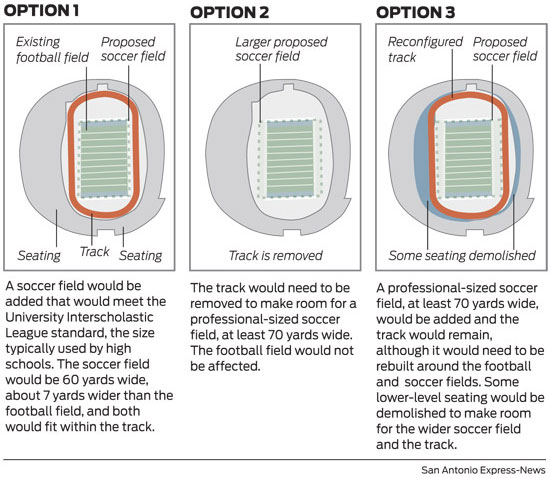 Meanwhile the San Antonio Scorpions, a level up in play from USL PRO, are on schedule to open their inaugural season this spring in the NASL. The Scorpions, owned by businessman Gordon Hartman, would like to shut down the SS&E plan. Meanwhile SS&E look to find help from the school district to help them with public money to support their plan.
Click "read more" to see a time line of the latest events in San Antonio
After a contentious public meeting on the subject the SAISD board tabled the issue until it could be further reviewed.
A few weeks later Scorpions owner Gordon Hartman proposed to the school district that they save money by leaving the track around Alamo Stadium and use his facilities at his STAR Soccer Complex. However, Hartman's fields have no seating and are out of the SAISD district. Hartman plans on using Heroes Stadium, a local high school stadium in the same district that his special needs theme park, Morgan's Wonderland, and the STAR Soccer Complex are located in. Hartman has said his team will play games at Heroes Stadium until a soccer-specific stadium can be built near his STAR facility.
Here's what's been happening since then:
Jan. 3rd: Former San Antonio mayor and SAISD president-elect Ed Garza writes an op-ed piece in the San Antonio Express online which recommends ripping up the track around Alamo Stadium field and expanding the field to accommodate a pro sized soccer field.
In 2005 when Garza was Mayor of San Antonio, he came very close to working out a deal to propose to MLS a team in San Antonio run by SS&E that would included rent-free use of the Alamodome. The plan faced major opposition. Phil Hardberger was elected into office in June 2005 and Hardberger immediately ended any MLS talks.
"I applaud Hartman's offer and dedication to the special needs community of San Antonio, but the kids of SAISD have equal needs and deserve high-quality athletic playing fields of their own, close to home, and even closer to their hearts," Garza said.
Jan. 4th: The trusties of SAISD gather for a special meeting to discuss three different proposals for Alamo Stadium. (See graphic from San Antonio Express)
From My San Antonio Online: What issue is it that is commanding the attention of the inner-city school district's leaders? It's not the fact that, according to 2009-2010 school year statistics, more than half the students who enter the ninth grade in SAISD won't graduate. It's not the crisis in public education created by a flawed system of funding that will once again be litigated in the courts. Instead, the big issue for SAISD is soccer. More specifically, the board is meeting to consider three alternatives for renovations at Alamo Stadium, two of which would accommodate a FIFA regulation field and open the door for a lease agreement between the district and Spurs Sports & Entertainment for the stadium's use as a venue for professional soccer.
Jan. 5th: A citizens' oversight committee recommends that SAISD not tear out the track to build a FIFA-size soccer field into Alamo Stadium.
"To the best of our knowledge, there is no proposal out there on the table whether it's by the San Antonio Spurs or Gordon Hartman or anybody for that matter, so it's kind of hard to factor in how much money the district would be making," said Mario Barrera, chairman of the oversight committee.
Jan. 5th: The San Antonio Scorpions and owner Gordon Hartman calls a press conference/luncheon for Monday, January 9th at 12:00 pm CT where they will unveil plans for their new soccer-specific stadium which evidently now has a name: Scorpions Community Stadium. The team will also include the construction timeline and detailed visuals.
You can watch the press conference live at the Scorpions website.
Jan. 8th: Garza tells the San Antonio Express he may move to delay the decision to choose one of three plans which was to be decided Monday night. He believes that district gave the board misinformation which he went as far as calling a "lie."
The information from San Antonio is coming fast and furious. Thankfully the San Antonio Express (My San Antonio.com) has done an outstanding job of following and factually reporting on this story for the past year.