From the days of the Minnesota Thunder playing Real Salt Lake in USOC matches or when the NSC Stars played the Austin Aztex in the USSF D2 Pro League, whenever Jamie Watson touched a ball for those opposing sides, Minnesota pro soccer fans would chant, "You dive like Jamie Watson." The chant was started after a 2005 USOC match when Watson seemed to, well lets say: tip over quite easily whenever close to a Thunder player. The chant became so popular that for years the Dark Clouds supporters used it whenever an opposing player went down too easily and received a call for his team.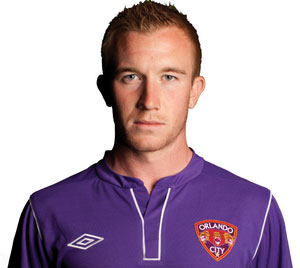 Now Stars supporters will have to come up with a new chant. The Orlando City midfielder Jamie Watson has been loaned to Minnesota for the remainder of the NASL season according to Orlando City's website. The news was confirmed by Stars FC CEO Djorn Buchholz who said details of the deal will be forthcoming tomorrow.
"With our season over, I'm not against any of our players going out an playing more football," said Orlando City head coach Adrian Heath. "Obviously we don't start again until February, so it keeps the season alive for them, keeps them playing, keeps them active, which is good. It'll definitely do Jamie good. He's had a stop-start year with injuries, and has just got himself fit."
Watson netted five goals for City in 23 appearances (18 starts), and also added four assists. Orlando City finished top of the league in the regular season and had a bye in the first round of the playoffs. They won the USL PRO Championship in 2011 and were expected to win the championship again this year. But the season was cut short by the Wilmington Hammerheads who were the only team to defeat Orlando during the regular season. The Hammerheads upset Orlando at the Florida Citrus Bowl last Saturday night by a score of 4-3.
"I want to thank Adrian, Ian, and the owners for allowing me to join Minnesota on a short-term loan deal to continue playing after the unfortunate end to our remarkable season," said Watson. "I am excited at this new challenge of winning an NASL Championship, but appreciate the blessing of my coaches, teammates, and fans of Orlando City on joining Minnesota for the remainder of the 2012 NASL campaign."