Uncle Sam or Saint Nicholas are not exactly names that former vendors and employees of Dean Johnson would use to describe the St. Paul, MN native who owned the Minnesota Thunder from the late summer of 2007 until they folded in the fall of 2009. In fact those names would likely be the polar opposite of what they would call Johnson after he walked away from the team that had a 20-year history. Johnson, who has lived in Belgium the last 16 years, left the team, his employees and many vendors high and dry, owing debts in excess of $1 million dollars. But Uncle Sam and Saint Nicholas are exactly the terms some Belgium news sources and Royal Football Club de Liège Chairman Jules Dethier are calling Johnson.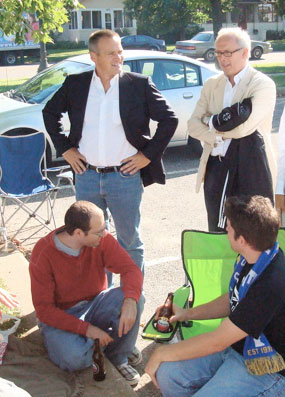 Johnson, a Belgium-based real estate developer, is suddenly promising to become a major investor in a Belgium 3rd Division club FC Liège despite his current debt that he seems to have no intention of repaying.
"Dean is a little like Saint Nicolas or Father Noel," said Dethier in a recent article.
FC Liège is a team that just 20 years ago played in European Cup competitions against the likes of Juventus and Benfica. These days the club is fighting to avoid relegation to Division 4. They've been struggling to meet their financial obligations for months and are looking for an infusion of cash.
The team lost their grounds 15 years ago, which used to be one of the biggest and oldest in Belgium. It's now replaced by a giant movie complex. Since then the nation's third oldest club has rented others' stadiums.
Enter Dean Johnson. The WingField real estate developer approached the cash-strapped club about injecting capital into the organization. What capital, you ask? That seems to be a very valid question for an individual who still owes so much money. The teams website says he has a three-point plan for the club. Those three points might sound all too familiar to former Thunder fans and employees.
1) Improve the team (to help them out of Division 3).
2) Strengthen the club's youth academy.
3) Build a new stadium, a sports complex and other real estate development including a 5-star hotel in the city of Liège.
The talks have gone so far that FC Liège's chairman introduced Johnson to the team last week and a meeting is set  for the middle of December for the club's board to decide whether to accept Johnson's offer. "An agreement between the parties should be concluded by mid-December," stated the FC Liège website.
However, it is possible this involvement would never be approved by FIFA, the worldwide governing body of football. According to United Soccer Leagues (USL) President Tim Holt, Johnson was reported to the USSF. IMS believes those reports would have to be disclosed to FIFA in US Soccer's monthly report to the Federation.
"The Minnesota Thunder USL professional soccer franchise rights owned by Dean Johnson through his WingField Corporation were terminated by USL after the 2009 season," Holt told IMS on Monday. "In addition to a substantial unpaid balance to USL, there were/are numerous players, staff, and vendors that have reported to USL also being owed money by Mr. Johnson and his ownership group. We reported the circumstances of the team's departure under Mr. Johnson's ownership to the US Soccer Federation in late 2009."
Indeed Johnson did leave many employees on the hook for thousands of dollars. Not just in lost wages but thousands of dollars from their own personal accounts that Johnson promised to pay back but never did.
IMS was contacted by numerous vendors looking for Johnson in the fall and winter of 2009/2010. He never officially announced the folding of his team and never declared bankruptcy leaving each employee and vendor on their own to try to contact Johnson and recover their money. No creditors have ever reported getting reimbursed by the WingField owner, including his own employees who fronted tens of thousands of dollars to Johnson and his team.
Even more shocking, this isn't Johnson's first attempt at getting control of another soccer team without first paying off his debts. Johnson brazenly approached the National Sports Center about purchasing the NSC Stars after he learned the non-profit was looking for investors and/or a buyer for the team. According to a source within the NSC, Johnson approached the team but the conversations never went further than phone calls.
The NSC, who had stated previously that Johnson owed them nearly $100,000, released a statement this afternoon concerning the situation:
"Several weeks ago, Dean Johnson contacted the NSC and expressed an interest in purchasing the NSC Minnesota Stars. The NSC informed Johnson that he would need to settle the considerable unpaid bills and financial obligations in Minnesota before the NSC would consider a sale.
"Subsequently, Dean Johnson did not pay his unpaid bills in Minnesota. The NSC ended all discussions.
"Recently, the NSC learned that Dean Johnson is planning to invest in a pro soccer team in Belgium. NSC officials are assuming that FIFA, Belgium and U.S. Soccer Federations will require Dean Johnson to satisfy his financial obligations in Minnesota before he is permitted to purchase or invest in a team in a different country."
In one of the many articles published about Johnson's reported rescue of FC Liège, he was asked, "You must be a little crazy to launch out in such an adventure."  Johnson laughs and says, "Your question is relevant, but I won't be able to answer that for a few weeks."
For the many individuals whom Johnson still owes significant amounts of money, they won't need anywhere near that amount of time to answer that same question.