USA 1-0 Germany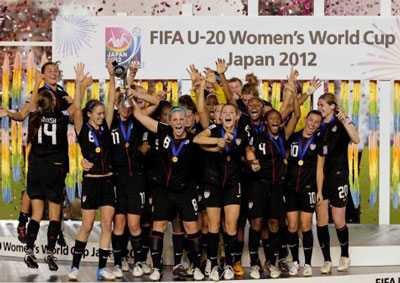 Germany's Women's National Team had stormed through the FIFA U-20 World Cup going 5-0-0 and had outscored their opponents 15-0. That included a 3-0 thumping of the U.S. But even though the Americans had struggled in some matches during the tournament, including the worst match which was against Germany, the US put the past behind them and played their best match of the tournament, defeating Germany 1-0 on a goal scored in the 44th minute by Kealia Ohai.
The win gave the USA their third World Cup crown in this tournament's history. The U.S. won the first-ever U-19 World Cup Final against Canada in 2002 and captured the 2008 U-20 World Cup against Korea DPR.
Ohai's goal was started by right back Crystal Dunn who broke down the right flank, stalled, then with a burst of speed broke around Germany's Annabel Jaeger and laid a cutback cross to the top of the box. Katie Stengel tried to break for the ball near post but wasn't able to reach it which provided a decoy. Ohai, who was posted up at the top and center of the box, came sweeping in to finish the right-footed first time shot past German goalkeeper Laura Benkarth which was her first goal conceded in the tournament.
The US managed the game well and kept the Germans to 5 shots on goal, most coming late in the game with the US dropped back and bunkered in from the intense pressure. And when needed, smiling goalkeeper Bryane Heaberlin came up big for the U.S.
USA defender Julie Johnston was awarded the Bronze Ball for being voted the third most outstanding player in the tournament. Germany's Dzsenifer Marozsan was the Golden Ball winner. Minnesota's Kassey Kallman was on the bench for the victory.