The Phoenix Business Journal is reporting that the USL PRO franchise in Phoenix now has a name and logo. The new team will be called Phoenix Wolves FC and its mascot, which is affixed to its logo, is the Mexican wolf.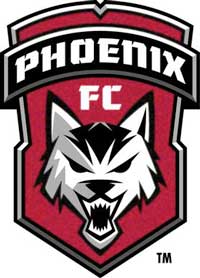 The Wolves will be the 12th team in USL PRO and will join the LA Blues as the only two teams in the west in a mainly East Coast league. However, USL President Tim Holt has previously said the USL is anxious to expand to the west as well.
The Wolves are expected to kick off in the spring of 2013. The team is owned and operated by BDR Sports, LLC, a consortium of Phoenix-based investors led by local developer Tim Thomas. Rui Filipe Bento, a longtime Phoenix soccer entrepreneur, will serve as its General Manager.
It was also announced that former Scottish player David Robertson, who played for Aberdeen, Rangers and Leads United, has been signed on to coach the team. Robertson has coached Elgin City FC and Montrose FC, both of the Scottish 3rd division.
The team has a website but no content as of now. Phoenix Wolves FC do have a Facebook page with content including notification for an open house which will take place tonight. It has also announced team tryouts in Phoenix on September 21st and October 26th.
Last spring the North American Soccer League also talked about the possibility of a new expansion team in Phoenix for their league, but no announcement was ever made.