42 coaching candidates have gathered this week at Macalester College in St. Paul, MN to participate in the USSF C-License coaching course. The C coaching certificate, unlike the USSF A license, is a life long license. To attain the C-license, candidates participate in a grueling week-long course that runs 8-10 hours a day with homework in the evenings.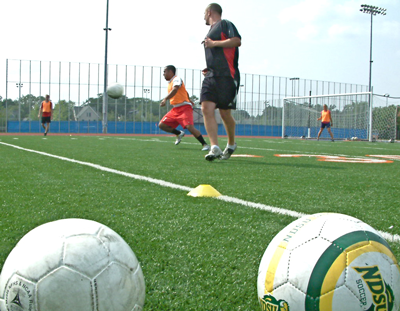 The class is being led by former Minnesota Youth Soccer Association (MYSA) Coaching Director and current Men's Head Soccer Coach at Macalester College, Ian Barker. Barker is being assisted by current MYSA Coaching Director John Curtis and Andy Coutts, MYSA Director of Technical Education. Ian Mulliner, Coaching Director Illinois Youth Soccer Association is also assisting Barker.
Andy Coutts gives pointers to a student coach who conducted a coaching session.
MYSA's Coutts reported that last weekend the same group of leaders hosted an E-license with 47 participating and a D-license with 26 candidates. Both of those classes also took place at Macalester College. The C started Sunday afternoon/evening bringing the total to 115 individuals working to attain coaching certificates and the knowledge that will make them better coaches and benefit their clubs and more importantly the players they work with.
Students are instructed and later tested on care and prevention, rules of the game, video analysis, game management, tactics and more. One of the areas of study is learning guidelines to what is age-appropriate training. An example would be what a 10-year-old is capable of doing physically compared to a 14-year-old, or what sort of tactical training an 18-year-old understands compared to a 14-year-old.

Coutts explained that they do their best to help the candidates pass the exams but not all of them will make the cut. However, students who do not pass can retest after an allotted amount of time.
Assignments are given in the afternoon and evening in preparation for the following day's activities. Students are often given a randomly created coaching session topic. Coaches need to be prepared to coach all age and skill levels. That topic can sometimes be as as obscure as "receiving 40-yard flighted air-balls" or as simple as "1-2 combination play." The student is given numerous topics throughout the week and needs to arrange their training session in the USSF system that starts with low pressure/minimal players ensuring success, (making sure players have the skills and the understanding) to medium pressure, adding players and possibly playing small sided to medium sided games. The final portion of the training session is usually a split squad game where players may have restrictions (no forward passes or only two short passes before a long pass) to encourage the skills emphasized in the training session. Eventually restrictions are lifted and a split squad game is played, hopefully emphasizing the topic for that day's session. The candidates are also given a specific age group for the topic so they can create the appropriate training session.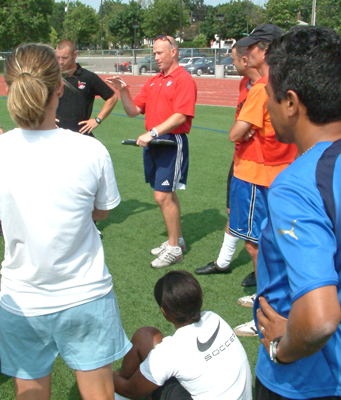 With a week-long session the candidates themselves must role play the part of the youth players. That equates into many 30- and 40-year-old coaches whose bodies take a real beating during the week. Because of that a trainer is always on hand at the C-license sessions and most mornings you can find them taping ankles and testing wobbly knees and strained and sore muscles. But most of the candidates carry on regardless of the injuries. It gets tough and as one of this years candidates told me, the heat and humidity this year hasn't helped matters either.
This year's course in St. Paul is the first time a C-license has been offered in Minnesota since 2002. The previous time the course was offered was in 1996, when I was a candidate. I shared the class with others like Sia Rahimi (Planet Soccer owner in Mpls. and former high level referee), Bo Conroy (Former Malmo-Sweden player and former director of coaching for St. Paul BlackHawks), John Curtis (current Coaching Director MYSA), Steve Michener (former President MYSA) and many more.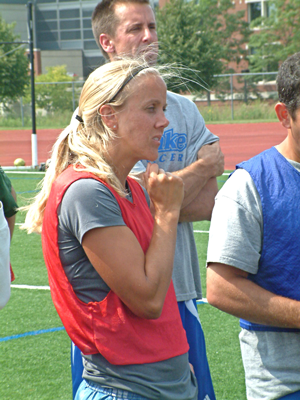 This year's candidates come from as far away as Oregon, Georgia and New York with many staying in dorms at the college. This class also has candidates who you may be hearing more about in the future. Just a few of those participating in the class are: Ryan Servaty (interim mens and women's head coach Bethel College), Dale Weiler (former MN Thunder midfielder and current assistant women's coach Augustana College), Maren Henderschot McCrary (WUSA player with Carolina Courage & San Jose CyberRays; 2001-2003, current Director of Girls' Training, Phoenix Futbol Club, Omaha).
Weiler, who says he was "ready to move on" from pro soccer, is excited about the class and his future in coaching. He is currently enrolled in a Masters Degree program at Augustana College in South Dakota.
"Just being around coaches like Ian Barker, John Curtis and Ian Mulliner is fantastic," said McCrary, the former WUSA player. "The level of coaching and the amount of education that you are going to get from them in a short amount of time is invaluable. If you can retain the information that you are receiving you're going to be a better coach. There's no way around that."