MYSA Summer State Tournament
The MYSA Summer State Tournament is set to conclude on Wednesday as all age brackets except the U-19 Boys will play their final on Wednesday at 3 separate locations. The U11–U13′s will take place in Lakeville at North Park. The U14–U15 and the U19 Boys C1 will be held at Lucy Winton Bell Complex in Lakeland and the U16–U19 will be taking place at the Coon Rapids Soccer Complex. The U-19 boys both C1 and C2 final will take place on Thursday night.
All previous results and the schedule for the finals can be found here. IMS will post the results when MYSA makes them available.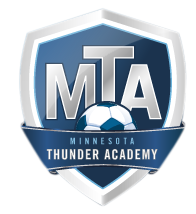 The Minnesota Thunder Academy's new web site and logo
The Minnesota Thunder Academy have launched a new and improved website and now has a logo. In the past the club really didn't have a logo and occasionally used the old Minnesota Thunder logo which they had been associated with even though the youth club was totally independent. The team's uniforms have not displayed the logo and only used the MTA block letters.
The club has girls' elite teams participating in the Elite Club National League and recently the MTA was accepted into the prestigious USSF boys Development Academy. The club will have both a boys U-16 and U-18 team participating in the Academy starting next winter/spring.
Eden Prairie Soccer Club still searching for DOC
Word from those associated with the Eden Prairie Soccer Club is their choice of Englishman Ben Bartlett for their Director of Coaching position has been scrapped. The club announced early in January that they had chosen the London native to lead their club's coaching staff after a long search that included more than 70 candidates from 10 countries. The club had waited for Bartlett to start this fall but he has had problems with a work visa.
Peter Reid is the current Boys Technical Director and has been the Interim Director of Coaching and Player Development. It's expected that Reid will continue in that capacity until a new DOC is hired.
Eden Prairie Soccer Club has been without a permanent DOC for a year now after Wayne Harrison stepped down to accept a position in the United Arab Emirates last July.