This Friday, October 8, the Dakota County Technical College (DCTC) soccer teams will play nationally ranked Iowa Central.
DCTC's women's soccer team plays at 5 pm and the men's teams play at 7pm. Both games will be at the new Ames Soccer Complex located on campus.
The first 300 fans in attendance will be given vuvuzelas. All high school, club or youth soccer players 18 and under get in free while adult admission is only $5.00.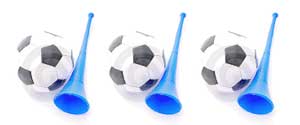 emaining 2010 DCTC Blue Knights Soccer Games:
Friday October 8               Iowa Central CC Women 5pm, Men 7pm
Sunday October 10          Marshalltown CC (IA) Men 12pm
Sunday October 17          Illinois Central (Men) 12pm
Tue or Wed October 26/27          Regional Quarterfinal Game (TBD)
For more information go to Go Blue Knights.com