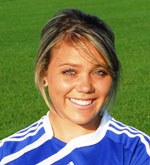 Lakeville, Minnesota native Kassandra Young is transferring to Louisville according to Cardinals head coach, Karen Ferguson-Dayes. Young transfers with one year of eligibility left. She spent a season at the University of Mary in Bismarck, N.D before transferring to Dakota County Technical College (DCTC) in Rosemount, Minnesota where she played two seasons.
"Kass came into our program and instantly set our standard in goalkeeping, playing in 30 games over two seasons and attaining a 1.1 goals against average," said Cam Stoltz, head coach of DCTC. "She is our all-time leader in that position in our eight year history. Kass finished her DCTC career as a regional runner up going 16 and 6 in her second season."
"Kass is a great example of what 2-year programs like DCTC can do for players that need time and transition to prepare for a higher level. It allowed her to come in and instantly be a 90 minute player. Her work ethic and ability combined is what gave her success at our program and I believe that will transcend at Louisville."
Young was ranked in the top 20 in the National Junior College Athletic Association in goals against average. She spent this summer playing for the Minnesota Kings in the Women's Premier Soccer League.