Former Gopher standout and Wisconsin native Katie Bethke has signed a new deal with top Norwegian Club Arna-Bjørnar.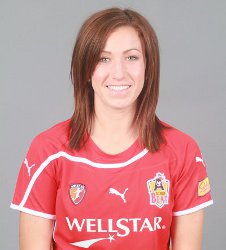 Arna-Bjørnar's women play in Norway's Premier Division while the men's team play in the third division. Bethke's new team is currently in 3rd place with 16 points in their 12-team league.
Bethke, who had been picked up by the Atlanta Beat of the WPS earlier this year and was the first former University of Minnesota player to sign a pro contract, failed to find playing time with the struggling WPS team. The team is in last place and has won only one game this season.
According to the Cherokee Tribune, Bethke wanted out and was looking to move to a team where she would be seeing regular game time. Because of her dissatisfaction, she was waved by the Beat on July 1st.
"(Bethke) wanted to go play on a team where she is playing week in and week out to get game-day experience," said Beat coach James Galanis. "I agreed that would be good for her development, so we released her. We're going to talk to her again at the beginning of the next season."
Bethke has been called into USWNT U-23 camps numerous times over the last several years.