If all goes according to plan the Puerto Rico Islanders will finally be back in their home venue of Estadio Juan Ramón Loubriel for their August 18th match when they host the Fort Lauderdale Strikers.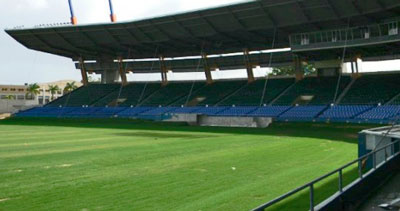 The Islanders have not had use of the stadium all season and have been playing all home games at Bayamon Soccer Complex, which is about 3 miles from Juan Ramón Loubriel and only seats 1,000. The small venue with seating on one end of the soccer field has clearly hurt attendance. The Islanders have the lowest attendance this year in the NASL with an average of 1,260 fans per game.
The renovations to the stadium have been made to upgrade a stadium created for baseball to be soccer specific. It will have a much larger capacity and a much improved field to deal with the heavy rainfalls that are typical of the island nation.
The goal of the project was to have the field ready for the August 15th National Team game between World Cup and European Cup Champions, Spain and Puerto Rico, which will be played in the newly renovated venue.
"We have invested nearly $3 million to convert the stadium into a real soccer field, and we have done in just over four months," said Bayamón mayor Ramón Luis Rivera, Jr., to newspaper Primera Hora.

Four feet of soil was removed in order to prepare the pitch for the proper drainage.
The architect for the renovations, Elyam Rodriguez, says they are about 85% complete with the renovations that should be completed by August 1st.
According to Primera Hora, that list includes the complete renovation of the playing field which started by removing 4′ of soil to put down the proper base for drainage and expansion of the field for larger FIFA dimensions.
"The soil has been the hardest part," said Rivera. "It required six months and we began to plant this area, just two days before the month of May."
Because of the shortened time frame, Rivera says they had to call in agronomists who even treated the grass with hormones beside fertilizers. "But it's done," said the mayor. "The grass is getting cut every two days and the ground was enabled from north to south so the sun does not bother the players."
The stadium will also have new dressing rooms and bathrooms and the replacement of some seating. There will also be some temporary bleachers until the addition for new seating is completed later. Lighting has also been adjusted to be more uniform across the field.
The Islanders will be hosting the LA Galaxy on September 19th and Isidro Metapán on September 27th in CONCACAF Champions League play after qualifying as the 3rd team in the CFU.
More photos of the renovations can be found here.