Frank Sinatra crooned "South of the border…down Mexico way" on a popular 1953 recording.  He was referring to a lovely senorita in the song, but ten years earlier the popular Mexican Primera Division soccer league was born. This colorful league has blossomed to become the 12th ranked domestic league in the world (according to by  FIFA rankings). The Mexican Primera Division (often referred to as simply by the initials FMF for its governing body Federación Mexicana de Fútbol Asociación) kicks off it season this Friday as Estudiates Teco hosts Toluca (Galavision, 9:00 pm EDT).  The FMF is a league too often overlooked by American fans, for although there are some barriers, the rewards are great.

Barriers: Understanding the Primera Division Format and the Language
There are probably two barriers that keep many American fans from embracing the FMF. One is the language barrier and the other may be the league's current format, which is a little difficult to understand for FMF novices.
The FMF season format is a 'stew' based on ingredients from European, Latin America and North American sports. Like Europe, the new season kicks off in the summer. But like many other South and Central American domestic leagues, the season is divided into two distinct segments, each having its own champion.
The Torneo Apertura (Opening Tournament) begins in July and ends in December.  The eighteen league teams each play 17 league matches in the Apertura.  Like North American sports, the championship is determined not by regular season play but by playoffs (La Liguilla).  The top eight teams  battle in a quarterfinal, semifinal and final winnowing process that determines the championship.  After a winter break, the Torneo Clausura begins in January and ends in May, again each team playing 17 league matches with La Liguilla determining the Clausura champion.

The FMF also features promotion and relegation like most domestic leagues worldwide, but with a twist that probably makes it more fair and the league more stable, if not a bit more complicated. Only one team each year is promoted and one demoted — and demotion is based on a points per game accrued ratio based on the last two Apertura and Clausura tournaments (except in the case of a newly promoted club… then the points ratio is based on the one Apertura and Clausura since promotion), while a 2nd division Liga de Ascenso team rises through a playoff between the Ascenso Apertura and Clausura champions. A bit confusing, and it requires more than just a quick glance at the table to see who is going down (such as the case with Derby County a few years ago in the EPL … it was soon obvious that the newly promoted side would last only one season in England's top-tier). Following the 2010 Clausura, Los Indios de Ciudad Juarez were demoted while Necaxa gained promotion. This May, Necaxa dropped back to Liga de Ascenso to be replaced by the Xolos of Tijuana.
Lack of fluency in the Spanish language provides another barrier for many Americans. Although games are regularly broadcast on Friday evenings, Saturday afternoon and evenings and Sunday afternoons on a myriad of television networks (Univision, Galavision, Telefutura, Azteca, ESPN Desportes and Fox Deportes), all are broadcast in Spanish (although matches broadcast on Fox Deportes have an SAP option that allows the viewer to hear an English language commentary). But, many American fans of La Liga, Serie A, the Bundesliga, the Eredivise and other European leagues bridge a language barrier when searching the internet for a stream of a match not televised in the U.S. Also, many Americans know at least a smidgeon of Spanish, and like listening to opera, watching a foreign film or attending a Latin Mass, one can usually figure out what's going on without necessarily understanding the specific words being spoken.
The Rewards
Being a follower of FMF takes a little work. But once you get past the language barrier and understand how the league format operates, the rewards of following such an exciting, high quality soccer league are numerous.
First of all, the FMF is a league of surprise. Although Chivas de Guadalajara, a team 30% of Mexican fans claim as their favorite club, have won eleven championships and Mexico City's very popular Club America ten, neither team has captured an Apertura or Clausura championship since 2006 (Chivas) and 2005 (America). If your preference is for the EPL, La Liga or Serie A where the same few teams battle for titles year after year, the FMF may not be your cup of coffee, but in Mexico many teams go into the season with a legitimate chance of winning a championship.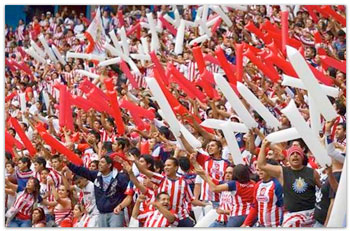 Chivas Guadalajara supporters
Secondly, the league is one of individual flair and color. Many team kits involve vivid and bright colors. The colorfulness runs to the stands too, as many matches seem like celebrations, whether in the 114,000 Azteca Stadium home of Club America or at a smaller venues like the 25,000 seat stadiums of Pachuca, Toluca, Estudiantes Tecos or Jaguares de Chiapas. Balloons, banners and colorful attire fill the stands in a league that is serious and competitive, but fun too. And the Mexican league still features players whose nicknames are known across the nation – players that employ a great deal of technique and are team players while still retaining some individual flair that is often lost in today's game.
Additionally, more and more American players are making the decision to play south of the border. While American internationals from the 1990s such as current USMNT assistant coach Pete Sorber, Tab Ramos, Eric Wynalda, Cle Kooiman and Marcelo Balboa earned paychecks in Mexico, the league currently employs more Americans than ever before. Recent American internationals such as Jonathan Bornstein (Tigres), Jose Francisco Torres (Pachuca), Herculez Gomez (Estudiantes Tecos) and DaMarcus Beasley (Puebla) are among the Americans that will be suiting up this weekend. Other Americans that should see playing time include Edgar Castillo (America) and Michael Orozco (San Luis Potosi), with young Mexican-Americans such as Joe Corona (Tijuana) and Adrian Ruelas (Jaguares) likely to make an impression, too.
Of course there are other stars to follow.  Mexican stars like Javier "Chícharito" Hernandez (Manchester United), Carlos Salcido (Fulham), Efrain Juarez (Celtic), Fransisco 'Maza' Rodriguez (VfB Stuttgart) and Meme Ochoa (just signed to play in Ligue 1) have crossed the Atlantic, but many stars remain.  Eben Lehman, who writes for the excellent FMF State of Mind English-language blog, was kind enough to offer suggestions for FMF newbies of stars to keep an eye on: "Christian "Hobbit" Bermudez had the best season of his life for Atlante in the Clausura. He really lead the team's turnaround and it will be interesting to see if he can maintain that high level of play. He serves as the center point of the entire Atlante attack;  Erick "Cubo" Torres is an exciting young striker, and now has a full season under his belt at Chivas;  Rafael Marquez Lugo was incredible for Morelia last season. He's a great scorer, and pushed the Monarcas all the way to the finals last spring: and the whole Tigres attack is one to watch- Hector Mancilla, Lucas Lobos, Damian Alvarez, and Danilinho are all exciting players. And now they have added young winger Edgar Pacheco."  Lehmann added that "Mauro Cejas may have a breakout season at his new club Pachuca, while we shouldn't overlook the established league stars such as Humberto Suazo at Monterrey, Emanuel Villa and Chaco Gimenez at Cruz Azul, Angel Reyna and Vicente Vuoso at America."  The stability and relatively high wages paid by the FMF attract talented players throughout South and Central America.  Many international players from CONCACAF nations drawing their salary in FMF will represent their respective countries against the USMNT in upcoming World Cup qualifying.
Mexico is the third largest trading partner of the U.S. and both countries share much history. The Spanish flag flew over Mexico and much of what is now the United States for centuries, and the Mexican flag flew over a large segment of the current United States for another forty years. Mexican culture is as much a part of American culture as the European heritage that many Americans treasure, if not more so, and even commercials on FMF television broadcasts feature such familiar brands as State Farm, Chevrolet and Budweiser. Kellogg's is the shirt sponsor of Queretero's Los Gallos Blancos and such companies as Coca-Cola, Home Depot, Pepsi, Blockbuster and Office Depot are secondary sponsors of FMF clubs.
FMF Club Atlante is the closest first division club to the south Florida region, while Tijuana is long kick from San Diego and Monterrey and Tigres play 150 miles from the U.S. border, so the FMF is our literal soccer neighbor. And if one needs still another incentive to tune into Mexican soccer, the fact that Mexico shares the same time zones with the U.S. allows one to view games without having to awaken at some ungodly weekend hour, bleary-eyed and sleep-deprived, to see Wigan Athletic play Bolton.
Check out the soccer south of the border starting this weekend and see what you've been missing.
FMF State of Mind writers Kevin McCauley, Nicholas Rosano and Eben Lehman are currently posting previews of all the FMF teams.  You can follow FMF State of Mind on Twitter here. FMF State of Mind is a member of the SB Nation network.