Scoring goals for sophomore forward Elliot Cassutt is nothing new. Last year the Minneapolis South freshman scored 9 goals for his varsity soccer team even though he was out half the season with a groin injury. This past summer he scored 18 goals for his club team Minneapolis United.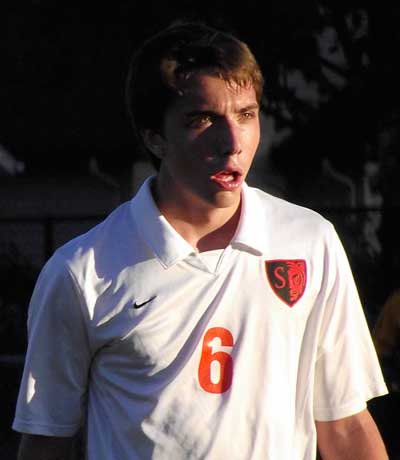 It seems the 15-year-old just keeps getting better. This 2010 fall high school season, Cassutt has broken two Minnesota State High School League state records: Most goals scored in a season with 44 and most points in a season with 65. That's pretty heady stuff for a 15-year-old that has two more years ahead of him.
"When he touches the ball you don't want to miss it because you may just see something you've never seen before," said Tamba Johnson, boys' coaching director at Minneapolis United and head varsity coach at Minneapolis South. "He's just that sort of player."
Johnson says even though the spot light is on Cassutt he keeps a level head. He says it's rare to see that in a kid who has all that ability. "He works hard and is unselfish with the ball and is just competitive," said Johnson. "I've coached a while and I don't know if I've ever seen a kid who is such a natural on the ball. A parent from Minneapolis Southwest whose son I coached in the offseason asked me what our chances were of beating their team. The Lakers are very good and they have three of Minneapolis United's best players, but I told him that I have Elliot. And as long as I have him, I always have a chance."
Even though Minneapolis Conference rival Southwest defeated South by a score of 3-1 on September 11th, the Lakers gave up one of only two goals the entire season to Southwest. The goal scorer? Of course, Elliot Cassutt. "It was one of the best goals I've ever seen by a youth player," said the South coach. "It was one of those moments were everyone just looked around and said, did he really do that?"
In the Southwest game, Cassutt received the ball at midfield and turned and beat one of the Lakers' better players. He then exploded forward and beat 2 more defenders and finally the sweeper, shooting past him into the lower left corner. He buried the ball into the net and past Southwest's goalkeeper Maliq Hunsberger, who has a 0.2 goals against average this season.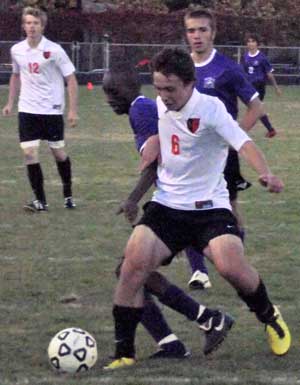 Cassutt uses his strength to shield the ball against Buffalo in a section playoff game on Thursday evening.
"I've seen that sort of play from him before," said Johnson, explaining that Cassutt's goal against Southwest wasn't a one-off. "He did it in a big game for us (Minneapolis United) in the Schwan's USA Cup. Perhaps that goal was even bigger because we were tied 2-2 with five minutes left. He dribbled 5 guys on that one. You just stop and ask yourself, did I really see that?"
"He doesn't really celebrate after goals," reported Johnson. "It's just like no big deal – another day at the park. He's really humble and he doesn't really like all the attention."
Cassutt says there is one goal he did celebrate: "I've always been a goal scorer so it just doesn't seem like that big of a deal that I need to celebrate. The only time I can really remember celebrating was on the goal I scored against Southwest. I have a lot of friends on that team and they're our rival. I celebrated by trying to run around the field but I sort of got mobbed by everyone on the team. So I ended up in a pile on the ground, but it was really fun."
"In club soccer everyone wants to win, but if you score it's not that big of a deal," continued Cassutt. "When you play high school and score against a rival, against your friends, it's a big deal."
When he touches the ball you don't want to miss it because you may just see something you've never seen before. He's just that sort of player.
Tamba Johnson, head varsity coach at Minneapolis South.
The Minneapolis South forward not only broke the old record of goals in a season but blew it out of the water. His new record of 44 pushes aside three separate players who were tied at 35 goals in a season. They were Brian Grand, (North Branch-'09), Chadd Cordova (Plainview-Elgin-Millville-'08) and Josh Jensen (St. Peter-'03).
Johnson says Cassutt has been responsible for 39% of all the goals scored for South this season. He also reports that he's strong and fast and he's equally adept going to his left or right foot. "The kid is the real thing," said Johnson.
Cassutt looks average-sized on the field for a sophomore but he's a solid young man. His 180 lbs. on a 5'10" frame with a low center of gravity allows him to dribble at opponents. Then again he's not afraid to pass either. Cassutt has racked up 21 assists this season, again putting him in the record book at #12 for most assists in a season.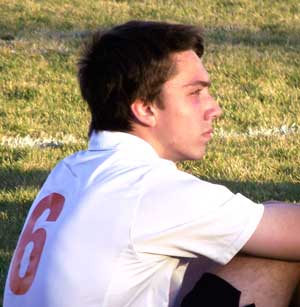 15-year-old Elliott Cassutt listens to coach Johnson's halftime talk.
The South forward said he knew he was close to the points record coming into the last game of the season against Washburn. "It was the last game of the season and it was on a penalty kick that was awarded to us," said Cassutt. "Actually, I was pretty nervous. But once I scored I felt great the rest of the game. When I came off the field and everyone congratulated me it was pretty special."
The old record of 62 points in a season was held by Marshall Morehead of Stillwater Area back in 1996. Morehead was the state's first Mr. Soccer in 1996. He was a high school All American, played collegiately at University of Wisconsin-Madison for one year, and then spent three at Marquette. After graduation, he played professionally for the Minnesota Thunder for three years.
Cassutt may be familiar with a player who now drops to #3 for points in a season with 59. Aaron Gibbons (Mpls. South, 2006), a former Tiger, holds that record. Gibbons is a senior at University of Wisconsin-Milwaukee.
Cassutt, who does not play ODP, says he tried it two years ago but pulled a groin muscle several weeks before a scheduled ODP trip. He says his father would like him to try out again. Even though Cassutt loves soccer he didn't have a lot of interest in playing ODP this past year. "It's a strong possibility I'll try out again next year," said Cassutt.
The South Tigers boys team are 15-3-1 this season and finished their conference with a 10-2-0 record. They defeated the Buffalo Bison in sectionals on Thursday night by a score of 6-0.
The Tigers (#3 seed) will now face Wayzata (#2 seed) on Saturday, Oct. 16 at 1:00 p.m. at Wayzata High School in the semifinals of the 6AA sectionals.