Former Minnesota Thunder player Johnny Torres has been selected as one of six athletes to be inducted into the 14th Missouri Valley Conference Hall of Fame class. Torres is the first soccer player to qualify for the honor.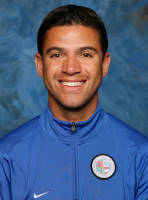 "I feel honored that the Missouri Valley Conference has chosen me to represent Creighton soccer in its Hall of Fame," said Torres, currently an assistant coach for the Bluejays. "I am so thankful to have had the opportunity to play for Creighton as part of this conference, and am thrilled to remain a part of both today."

Torres in 1997 winning the Hermann Trophy
In 1997 Torres won both the Hermann Trophy and the Missouri Athletic Club Award (prior to the combination of the awards), recognizing him as the National Player of the Year. In 1996 he earned Player of the Year honors from Soccer America after leading the Bluejays to their first College Cup appearance. The 1997 MVC Player of the Year, he remains the only two-time first-team NSCAA All-American in the storied history of Creighton soccer.
A native of Medellin, Colombia, Torres turned his successful collegiate career into a professional career which has now spanned more than a decade. The fifth overall pick in the first round of the 1998 MLS SuperDraft by the New England Revolution, he played for the Revolution for four seasons and also played for the Miami Fusion and Chicago Fire of Major League Soccer. He played in the USL for the Minnesota Thunder and the Milwaukee Wave United, before moving to the indoor game with the Milwaukee Wave. Torres recently announced he has signed to play the upcoming 2010-11 season with the expansion Omaha Vipers of the Major Indoor Soccer League (MISL).

Torres in 1999 with the New England Revolution
Torres played for the Thunder 2002 to 2003. He made 47 appearances and scored 19 goals. He played for the Milwaukee Wave in 2004, made 28 appearances and scored 11 times.
Basketball standout Joe Allen of Bradley, NFL Hall of Famer Steve Largent of Tulsa, gymnastics icon Kurt Thomas of Indiana State, collegiate football pioneer Linwood Sexton of Wichita State and volleyball coaching legend Iradge Ahrabi-Fard of UNI comprise the other five inductees.
The MVC will honor its past on March 4, 2011, when it conducts its annual Hall of Fame induction ceremony in St. Louis