Every year, prior to the State High School Tournament, the Minnesota State High School Soccer Coaches Association (MSHSSCA) awards the Mr. and Ms. Soccer Award to a recipient who is deemed the best overall player in the State. These awards are handed out to both the boys and girls and for Class A and for Class AA.
This year's winners are:
Class A – Boys
Adam Osman – Senior Midfielder – Mankato East
Osman helped lead his Mankato East team to a 7-0-2 conference record and a 17-0-2 overall record, good for a State Tournament berth. The senior midfielder has 12 assists this season and 7 goals for 19 points. Osman is only the second out-state player to win the award.
"Mr. Soccer is a prestigious award and I can't think of a better person, player, or student to receive this award than Adam Osman," said Mankato East Boys head coach Jarred Aspelund. "Adam is truly a one of a kind player, that can play any position on the field and put your team in a position to win any game. He's been an important player to our program since he came in 6 years ago, setting team records for points and all the honors he has received. Adam has a long soccer career ahead of him but he will always be remembered at Mankato East."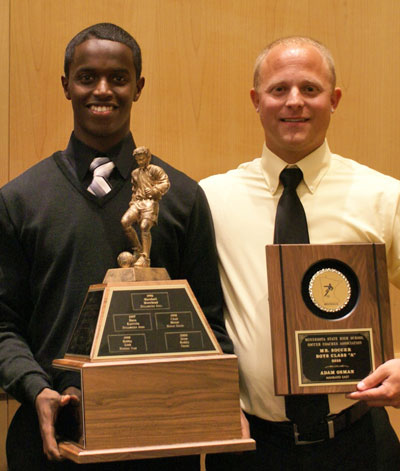 2010 Mr. Soccer Boys Class A, Adam Osman and coach Jarred Aspelund
Class A – Girls
Jaclyn Scanlan – Senior Midfielder – East Grand Forks
Scanlan has racked up 18 goals this season with 13 assists. Her 31 points have helped her team to a 9-0-0 conference record, a 19-1-1 overall record and a State Tournament berth.
"Jaclyn has been instrumental to taking our program to another level," said East Grand Forks girls varsity coach Jessica Krog. "She's been the catalyst of an offense that has put in 222 goals in the net the last 2 seasons and has led us to 2 Section Championships and 4 straight Lakes to Prairie Conference titles. She is a game changer! Her ability to control the middle and her ball skills are the best I've ever seen at the high school level. She's our program's leading all time leading scorer with 90 career goals and 78 assists."
"Jaclyn also has outstanding character and tremendous leadership skills. Her team members have so much respect for her that she was voted team captain as a sophomore and has held that position for 3 years. She is not only a leader on our field, but also in our community."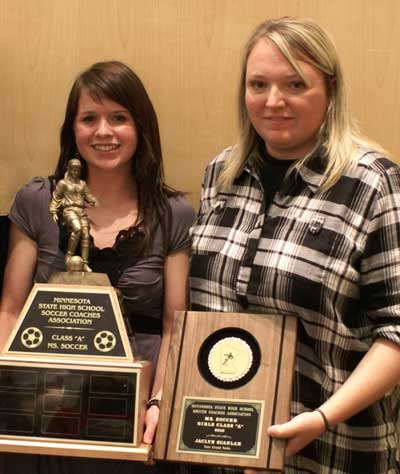 2010 Ms. Soccer Girls Class A, Jaclyn Scanlan and coach Jessica Krog.
Class AA – Boys
Eric Miller – Senior Midfielder –Woodbury
Miller's dominating central midfield play helped his team to a 7-2-0 conference record with a 14-4-1 overall record. Even as a midfielder he took 73 shots with 15 assists and 16 goals for 31 points. He made the Honorable Mention team his sophomore year and has made the All State Team both his junior and senior year.
"Eric's the best soccer player I've ever coached and I've coached some great soccer players," said Woodbury coach Joe Quintavalle. "But it's not just his soccer. Off the field he's a great person, a great student and a great leader. He's smart and he's got all those intangibles. He's just a complete player that has it all."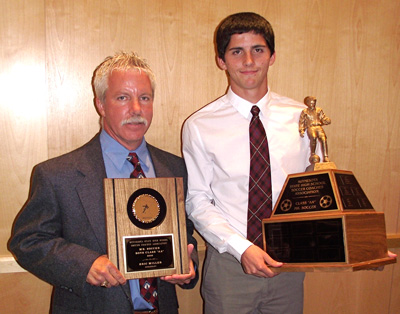 2010 Mr. Soccer Boys Class AA, Eric Miller. With Miller is Woodbury HS Head Coach Joe Quintavalle
Class AA – Girls
Taylor Uhl – Senior Forward – Eden Prairie
Uhl's Eden Prairie team will be heading to the quarterfinals of the State Tournament thanks in part to the senior forward's play. The Eagles recorded a 17-0-1 record on their way to the state tourney with Uhl scoring a whopping 25 goals. She made All State all 4 years she played and tallied 86 goals in her high school career.
"I don't know if I will ever coach a player of Taylor's caliber again," said Eden Prairie Head Coach Tony Bidwell. "She the sort of player that makes everyone on the field around her better. I've seen her win games in tough difficult moments and it's just such a pleasure to coach an athlete like her. This state has a great representative in Taylor."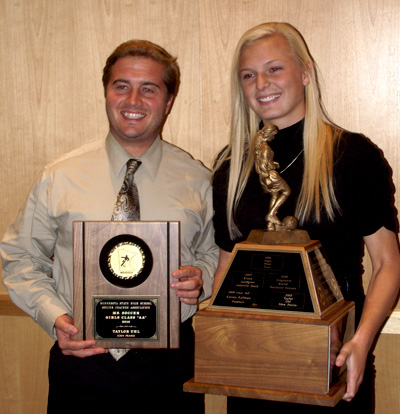 2010 Ms. Soccer Girls Class AA, Taylor Uhl. With Uhl is Eden Prairie HS Head Coach Tony Bidwell