The 2011 Minnesota State High School Tournament will get underway this week at 4 locations across the State. Quarterfinal games will be played starting Wednesday, October 26th and go through Friday the 28th with semifinals in the Metrodome on October 31st and November 1st. The four final games will be also be played at the Metrodome on November 3rd.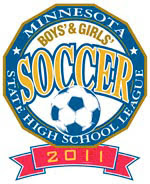 Once again IMS will be covering the tournament for you with brief recaps of each quarterfinal game. Staff writer Kyle Nelson will be teaming with me to bring you game reports with quotes from players and coaches of all semifinal and final games. IMS and NSC Minnesota Stars photographer Jeremy Olson will be on hand for the four final games on Thursday.
The MSHSL will again live stream the four final games on November 3rd. IMS will keep you up to the minute with live updates of the semifinals on Monday and Tuesday (time permitting) using live blogging with Cover It Live that you will be able to interact with as well.
Here is the state tournament schedule and teams: