Change in business trends causes the closing of the Twin Cities first soccer supply retail store. The Soccer Express Minnetonka store remains open for business.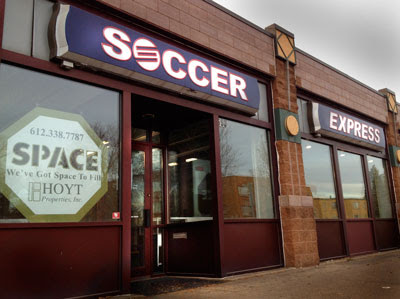 The Soccer Express store in St. Paul's Highland Park has closed its doors for the last time. The store, which had moved several times since its opening in 1981, shut down just before Christmas. Dave Jenson, owner of Soccer Express, will remain doing business at his Minnetonka store which has been open for 16 years.
The St. Paul Soccer express was the first soccer supply store in the Twin Cities. It was originally located at Hamline and St. Clair in St. Paul, about a mile north east from its current location. It moved to Randolph and Snelling in 1984 and moved to their last location, 653 South Snelling Avenue, in 1992. Since that move the store has expanded and remodeled several times before its closing this past month.
Jenson, who played soccer at St. Thomas College in the '70s, explained that he found it impossible to find soccer supplies in the Twin Cities. He had become friends with Gary Smith, an English trainer for the Minnesota Kicks of the original NASL. Jenson got to know Smith while helping him run youth soccer camps. When the Kicks folded in the early '80s, Jenson purchased Smith's remaining supplies and sold them out of his car. He eventually decided it was time to give soccer players in the Twin Cities a place where they could find everything they needed to play and get properly outfitted by knowledgeable players such as himself.
Being in the business for as long as he has, Jenson says he's learned to read the market trends. He says the number of players has grown but has also expanded away from the city. And with more choices in soccer stores and online shopping it's made it difficult.
"There's a whole generation of people who know about Soccer Express on Snelling Avenue," says Jenson. "But there are younger generations of soccer people who just don't even know who you are. You feel like you've been around enough years that everyone should know you, but it's gotten that St. Paul is just foreign to a whole generation of soccer players."
Jenson says Planet Soccer in Minneapolis has done a nice job with what he calls healthy competition in the city and he mentions another soccer business that has stores in the north and south of the Twin Cities. He also says the big box sports stores have also made a push towards soccer.
"What business you thought you had you really don't because of convenience and location," says Jenson. "The areas of club soccer are almost the four corners of the Twin Cities now with pockets in the Bloomington, Minnetonka and Edina areas. St. Paul has really dropped off from where it once was."
Better-faster roads and shifting of business to the suburbs are just a few more reason Jenson cites as reasons for shifts away from the city. Because of that he's looking to open another store, but this time it will most likely be to the eastern suburbs since he already has a store in the western regions of the metro area. The Soccer Express owner says that after doing a fair amount of research he is looking at the Woodbury area and has been researching properties that might fit the bill.
Jenson says some things have changed a lot in the soccer supply retail business, but others haven't. Customer service is still the key to good sales just as it was in the early '80s. But he has seen changes in the business in his 30 years of running Soccer Express.
"You will have a higher end customer that will come in, spend 20 minutes in the store and have you help him try on 8 pairs of boots. Then he'll leave not buying anything and go order them from an online service," says Jenson.
He says there is also a big turnover in styles and selections, so the product is turning 3 times a year now which keeps them very busy. "Every time there's an EPL game on and (Wayne) Rooney wears a new color of a Nike shoe, you'd better have it in stock or you're going to lose out to an online sale," says Jenson. "At 9- or 10-years-old the kids are all looking online now for the newest coolest color shoe. If you don't have it you'll have to discount your other products to sell them something."
The Soccer Express owner says there's another big difference he's seen in customers since he first opened his store. Female soccer. "A women would never walk into our store in 1981 unless they were really a fanatic," explained Jenson. "Now every other customer is a female looking for a pair of shoes."
Jenson says most guys will look to buy a pair of very expensive shoes where most female customer would prefer to purchase several pairs of shoes for the same price as the one pair of expensive men's sho