On Monday December 26th, Boxing Day in England, Clint Dempsey scored his 6th goal of the 2011-2012 Barclay Premier League campaign. The American, who is about to start in his 5th season with Fulham, has clearly learned a thing or two during his time in the Premiership. He's improved his overall play, especially his defensive duties as well as his practice of not giving the ball up in dangerous areas of the field, something he did a fair amount of in his early months at Fulham. But with all that change there is one thing that has stayed consistent. His uncanny ability to poach goals.
Dempsey poached goals as a youth player, he did it with the New England Revolution and he is still doing it today at Fulham. It's what helped him to surpass Brian McBride's scoring record at Fulham. Dempsey has scored 39 goals for Fulham and has now scored more goals in the Premier League that any other American. He is the top goal scorer of any Fulham player that is currently active on their roster.
With Dempsey, you will seldom see him break down two or three players and score. And as much as he has improved his shot from distance [he was very poor when first coming to Fulham] he still rarely scores in that manner, although he seems to strike a lot of posts and crossbars.
Instead Dempsey uses his uncanny knack for being at the right place at the right time, something he has always been good at but that has also improved over time. Dempsey has feasted off the ability to slip behind his defender and to never give up driving for goal and looking for the slightest opportunity to get his head or feet on a ball just before a defender does. Poacher's goals. Yet there is certainly an art and a work ethic to that sort of goal.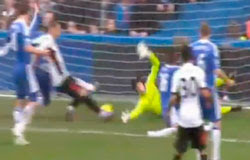 Clint Dempsey times his run perfectly to find the few inches available to slot the ball past Chelsea's Petr Cech
Many years ago the legendary Buzz Lagos conducted a coaching clinic that I attended where he worked on finishing. "Darting runs, darting runs," Lagos would yell. "Change of speed – change of direction. Get behind your defender, then sprint in front of him." To a tee it was exactly what Dempsey did to Chelsea's young defender, David Luiz on Monday in that West London Derby.
A friend and cohort of Lagos, Craig Lang, would call Dempsey's run a "POMO" run. "Position of maximum opportunity," he laughingly expressed to me once, saying he had learned the term in England while attaining his FA Badge. Lang explained a POMO run as a space you fill: where you have the very best opportunity to score if the ball is crossed to you, where the ball will most likely rebound to, if it's deflected and where the keeper might most likely spill that shot. And as was the case on Monday, where Clint Dempsey might find the exact 16 inches of space he needed to slot the ball home for the equalizer. Dempsey is a master at the POMO run.
Dissecting the play, Dempsey starts to go for the ball but backs off when it's cleared outside to Bryan Ruiz for Fulham. He then holds off his run trying to time his movement with that of Ruiz. He starts to accelerate and begins to make his cut when he sees his Costa Rican teammate cut and head to the end line to get further behind the Chelsea defense. This opens the opportunity for Dempsey to sneak even further behind his defender which he does by again shifting to his left and then darting ahead once again. Then at the last moment, just as Ruiz crosses the ball and with only inches to slot the ball, Dempsey slides and knocks the ball past a diving Petr Cech and a lunging Luiz. A perfect POMO run and a typical Clint Dempsey goal poacher's goal.