Several months ago I was contacted by former U of M soccer player Kylie Kallman who filled me in on some information about two former teammates and soccer standouts, Katie Bethke and Jennie Clark. She told me both players were in Germany and playing in the Women's Bundesliga, Bethke for Bayer 04 Leverkusen and Clark with FC Lokomotive Leipzig.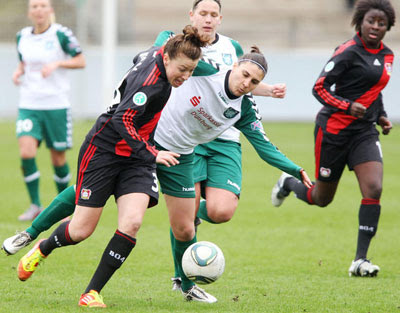 I took Kallman's information and presented the story idea to new IMS writer Megan Ryan who is a U of M student and now writing for the Daily. In turn Ryan presented the idea to the Daily and on Wednesday her nicely detailed piece, which is part of a series call "The Transition," hit the front page of the U of M publication.
You can read Megan Ryan's story here.
It's interesting that each player had taken their own route to the Bundesliga in very independent ways.
Bethke was the first U of M player ever to sign a pro contract which she had done with the Atlanta Beat of the WPS. But Bethke was frustrated with some things she had seen in the WPS. She was also frustrated with her lack of playing time and eventually asked to be released from her contract last July to play in Europe for Norwegian Club Arna-Bjørnar.
Clark signed with Sky Blue FC of the WPS where she spent all of last season.
Kylie Kallman was also offered a WPS contract last April but declined in order to finish school.
Please check out Ryan's story at the Daily as it goes into much greater detail about these two former U of M players.